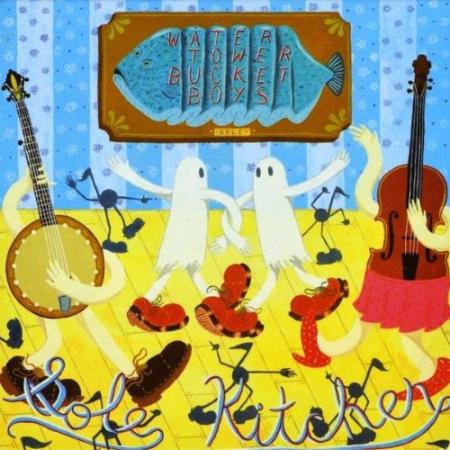 Portland has a tendency, over the past decade to produce idiosyncratic, homogeneous artists archetypal of the town and culture to which they owe their roots. Water Tower Bucket Boys have no shame in this, nor should they. This is the city that exported Elliot Smith, Modest Mouse, Blitzen Trapper and The Decemberists. All unique in their own way but damn do they know where they came from.
They came to my attention after playing with Frank Turner on their recent tour of the U.K and receiving the kind of praise that makes one eye go bigger than the other. And well it might. They've been together 5 years and have been on the road for most of that while still managing to release FOUR albums in that time. This is the kind of work ethic that might cause Mr. Turner to give up sleep entirely.
Sure, their sound can easily be classed as bluegrass which brings wafting comparisons of Mumford and Sons and Dry the River but the difference between WTTB and unlike those two is that these guys aren't, and I hope you don't mind me saying this but "a bit wet".
That is to say the reason Mumford and Sons are popular is (apart from selling their souls to mainstream press and media) their album had 4 great tracks on everyone could enjoy and the rest sleepy love junk which for whatever reason people seem to eat up. The best comparison I can make is to Bellowhead without the brass. That is to say they have the great old time feel about them that makes for a great atmosphere live where everyone can dig it regardless of taste, generation or sobriety.
Onto the album. I should warn you, though you may already be prepared for this- there is banjo, mandolin and fiddlin' APLENTY here. The first two tracks uptempo flavourings of the bands signature before dwindling off for a moment of reflection and easy listening and then kicking right back in with what they do best.
There's a lot of what you may expect lyrically but, as country references travel, loss, love and companionship; folk tends towards drinking, remorse and unbridled enthusiasm. They bring harmonies into play on more than a couple of occasions in a style so reminiscent of Stornoway it's as comforting as their own music is.
WTBB pride themselves on being a schmorgasboard of genre crosses, from blue grass folk to punk rock and blues. Punk being the element that is all too often lost in the mix, having listened to what I could find of their past offerings perhaps the bass hammering has been toned down but to good effect if you ask me and that's not to say they bypass that old zenith but the violin compensates for any changes of line up that may have caused this transition.
There are aspects of this album where I thought, "If Red Hot Chili Peppers were a folk band they'd sound exactly like this" and that is the best compliment you could ever give anyone in my opinion! This is most undeniable on tracks like Blackbird pickin' at a squirrel, a brilliant pastiche that really shows off the musicianship that these guys have in abundance. This being one of the observations most noted on coming away from their shows as well as how great a time you had no matter how you felt before hand.
I've read different people saying the standout on the album is such and such so I'd like to steer away from that as it seems there is something for everyone. In my opinion Sunday Night Roast is impeccable and genre defining and without a doubt the sound they should be known for but hey, that's just me.
I can't promise you won't find this album a bit country but I can promise you'll enjoy it for what it is, a feel good snapshot of a band whose melodies will creep into your mind long after you last heard them.