There are two important announces from Electronic Arts or EA, one of the biggest gaming companies in the world. In its arsenal there are true classics like Powermonger (which is my personal legend) , Populous, NASCAR, Bard's Tale series, Molyneux's Black & White, Boulder Dash, Lotus, Lands of Lore III, FIFAs, Shadow of the Beast, Alpha Centauri, Sim City, The Sims, Ultima Collection, Wing Commanders, Fight Night, Command & Conquer series, Dungeon Keeper.
But lately the company gained bad reputation for making dumbed down games or transforming titles into such. That was what happened with two juggernaut franchises that belong to EA universe now… Mass Effect and Dragon Age. They became easier and shallower. But we have high hopes, right folks?
Lately, there were rumors on BioWare forums that fans were testing new content for a new Dragon Age game. Following these rumors, BioWare's Mark Darrah took to the official site to announce that the game is indeed in development, and in fact has been in the works for two years.
Good, because Dragon Age II was TERRIBLE.
At the moment we don't know anything about the story but what we know is the name is Dragon Age III: Inquisition, the team that's working on the game is the same team that made first two games and the new game will use a custom engine built on Frostbite 2.
There are more rumors on the map being four times bigger and the setting will be Orlais. But nothing concrete yet.
Darrah said this:
"Recently, I said that we didn´t want to talk about Dragon Age III unless we had something to show. I´m trying to stick to that plan and won´t be revealing much today. That said, a lot of information and rumors have surfaced recently and we don´t want to hide from them. There are a BUNCH of things that I really want to share with you but I want to do this right, and doing it right requires some more time."
DAIII: Inquisition is slated for late 2013.
Next one is a color choice test question.
You guessed right, Mass Effect.
First, let me get this out of the way, the rumored Omega DLC for Mass Effect 3 has been confirmed as coming this fall.
There was a blog report from BioWare Edmonton and Montreal general manager Aaryn Flynn saying this:
"Executive Producer Casey Hudson and his team are coming off an amazing eight-year run with the Mass Effect trilogy. But they're not done yet," Flynn wrote. "We are releasing more multiplayer content and we have more single-player stories coming throughout the next six months, including Omega which is coming in the Fall. But the Mass Effect universe is vast, and Casey and our teams have plans for another full game. 'Where to go next?' with such a project has been a question a lot of us have been asking, and we'd all love to hear your ideas."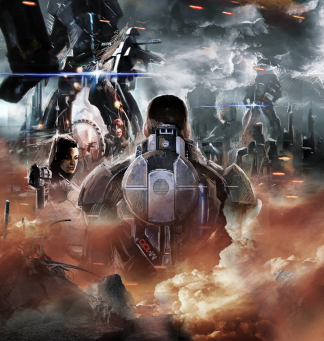 We knew we should keep our save files and we knew there wouldn't be a Shepard in near future. So what do you think the new game be about? I have a few ideas.
Last but not least, there also is a mention of an entirely new game universe, being built from scratch, from a team led by Mass Effect executive producer Casey Hudson.