For a team that has posted a measly record of 126-268 (.320 pct.) over the course of its past five seasons, including a putrid 12-70 season in 2009-10,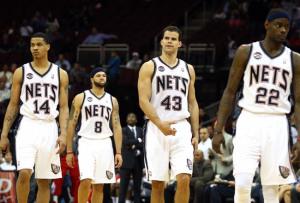 Last season was a major disappointment for the Nets, as they managed a meager 22-44 record, leaving the team with major questions going into a new era in Brooklyn.
predicting even a decent season in 2012-13 would be preposterous, but this upcoming NBA season, the newly named Brooklyn Nets have all the pieces in place to exceed decency and surmount even our wildest expectations.
Just 37 days ago, when NBA teams began negotiations with free agents, the Nets faced a potential unloading of their current depth-lacking lineup, which would have put them in complete crisis. Star point guard Deron Williams was an unrestricted free agent, and rumors were strong that he might have been headed to Dallas. Center Brook Lopez, forward Kris Humphries and veteran forward Gerald Wallace were all free agents as well, and losing one of those pieces would have been a colossal blow to the Nets' roster. Instead, things went in the opposite direction for the Nets, as they re-signed Williams to a five-year deal, Lopez to a four-year deal, Humphries to a two-year deal and Wallace to a four-year deal. In addition to these essential signings, the Nets delivered a knockout punch to the rest of the NBA by sending Jordan Farmar, Johan Petro, Anthony Morrow, Jordan Williams and DeShawn Stevenson to the Hawks in exchange for six-time all-star guard, Joe Johnson. This move put the Nets in prime position with a strong starting lineup including Deron Williams, Joe Johnson, Gerald Wallace, Kris Humphries and Brook Lopez. In addition to this durable starting five, a Nets' bench that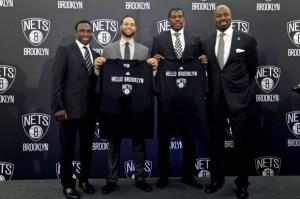 Bringing back Williams and trading for Johnson were two moves that gave the Nets the star power necessary to flourish in the NBA.
faces numerous depth concerns now possesses C.J. Watson, who the Nets signed this offseason to a two-year deal after he cleared waivers, and MarShon Brooks, the young, energetic guard with boatloads of potential.
Even with a remodeled lineup that leads to a renewed sense of hope for the Nets, there are still some nay-sayers out there, saying that their lack of depth will catch up to them or that Williams and Johnson won't mesh in the Brooklyn backcourt. While both of these are legitimate concerns for the Nets going forward, the positives certainly outweigh the negatives for this upcoming season.
In the past few weeks, the Nets' dynamic combination of Williams, Johnson, Lopez and Wallace has been dubbed the 'Core Four.' The 'Core Four' is a very balanced group both offensively and defensively, as they have a top five point guard, a top 10 shooting guard, a top 10 center, and  a reliable defender in Wallace. Compared to the Heat's 'Big 3, the 'Core Four' is much more balanced, as the 'Big 3′ does not include a point guard or a center, and they still won the NBA Finals last season. The Nets' balanced and star-studded 'Core Four' has the ability to push the Nets into the Eastern Conference's elite class this upcoming season.
The entire Nets' roster contains every trait that a winning NBA team needs: Dynamic scoring (Williams, Johnson), rebounding (Humphries, Lopez),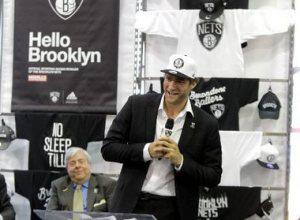 Hello Brooklyn! The Nets' new, savvy look and improved sense of swagger is another aspect of the organization that can give the team the confidence it needs to contend.
defense (Wallace, Lopez, Watson), passing (Williams, Watson), outside shooting (Williams, Watson, Johnson, Brooks), and interior offense/defense (Lopez, Humphries). While the Nets seem like a choppy, inconsistent team, they clearly have all the pieces in place to succeed in the Eastern Conference and beyond.
It has all turned around this offseason for the Nets, as on paper, this is a team that can thrive against even the NBA's best, erase its atrocious reputation in the NBA, and maybe hang up a banner or two during the process. Now, all they have to do is make it happen.
By Sam Brief
Agree? Disagree? Leave a comment, I would love to know if you think the Nets' offseason successes will be enough to boost them into the upper echelon of the Eastern Conference!