Hi Huneybees,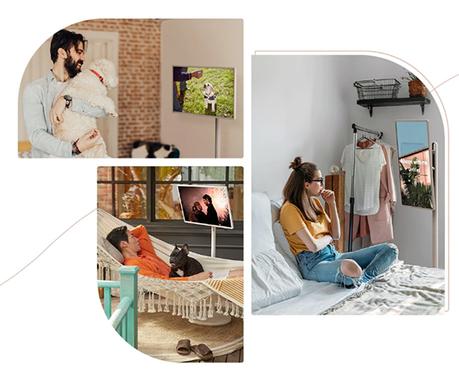 See this picture above? I've been seeing the ads for this gadget for the whole day yesterday and the one with the lady on the bed (right) caught my attention. What is this big standing monitor???
I love catching my k-dramas in bed and holding it for long, tends to be so tiring for my wrists, so I switched to having my tablet clasped onto a tripod stand, but the tablet screen is small and I tend to have to squint when it comes to reading the subtitles. Now you know why that picture caught my attention?
The screen comes wireless with 

a built-in battery that lasts for up to three hours on a single charge – perfect for watching a movie, for home workouts, conference calls or study sessions. Along with five concealed wheels positioned at the base of the stand, the screen is designed for ease of mobility, allowing the user to enjoy their home-centric lifestyle while moving freely from the home office to the living room, kitchen and bedroom. Besides its versatile form factors, the LG StanbyME enhances usability with intuitive control options, including remote, touch and gesture recognition!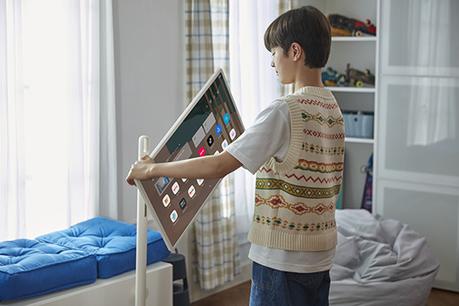 As you can see from the video ad, s
treaming content on the LG StanbyME is a breeze with its Mobile Screen Mirroring - pairs seamlessly with the latest Android and iOS smartphones and via Near-Field Communication (NFC) to easily connect and allow users to enjoy more immersive mobile content on a bigger screen.  
Users with AirPlay 2 can also stream, share, and mirror content from their devices effortlessly. They can also choose to use the Home app or Siri on iOS devices to control the device remotely with HomeKit and connect their laptops or PCs to StanbyME via a wired (USB, HDMI) or wireless connection for presentations.