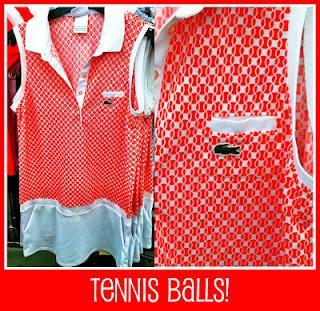 I was out shopping for tennis shoes for my son yesterday and spotted this super cute tennis dress which I had to share. This is the Lacoste Sleeveless Technical Pique Vintage Tennis Ball Printed Polo Dress and I saw it at Tennis Express. I like the loose drop waist look (which is a change from most super-fitted tennis dresses), I like the contrast between the top half in print and the bottom half in white pique, I like the slash pockets in front, and I

LOVE

the tennis ball print! The dress comes in the red print shown here and also a blue gray print (with the white pique). It sells for $135 which, typical for a Lacoste piece, is a little pricey considering it does not include a built-in bra. However, this is so comfy looking and sweet, I may be able to justify that cost.
P.S. - Photo editing all done by me! Just another of the many useful lessons learned by having a blog. Or, as my husband might say, just another of the many ways to waste time by having a blog.    


© Kim Selzman 2012 All Rights Reserved