Yesterday morning I headed east from State College for an interview with a potential graduate school advisor at East Stroudsburg University. Fortunately, there has been a continuing Snowy Owl only thirty minutes from the campus. I left extremely early so I could have time to go see the owl. I left my apartment in State College around 0450 and made it to East Stroudsburg a little after 0700. I picked up one of my coworkers from the summer, Katie Barnes, who is a current Graduate Student there because she wanted to see the owl as well. We arrived at Merrill Creek Reservoir around 0830 and checked a few spots for the owl before going to the Visitor's Center to get the exact location of the owl. After a short time at the Visitor's Center we headed to the spot where the Snowy Owl was reported on Monday. After a mile hike into the reservoir, we spotted the owl in the exact location as the naturalist described to us! It was an amazing site and observation! To get a good look at the owl, we had to use my spotting scope. I'm glad Katie brought her digital camera along so we could attempt to digiscope some photos of the owl in the low light and foggy weather. All in all, it was definitely worth the half hour trip down to Merrill Creek Reservoir to see the continuing Snowy Owl! The bird was a lifer for both Katie and I. Here are a couple digiscoped photos that we took of the owl. Also, here is a link to the complete checklist from the morning.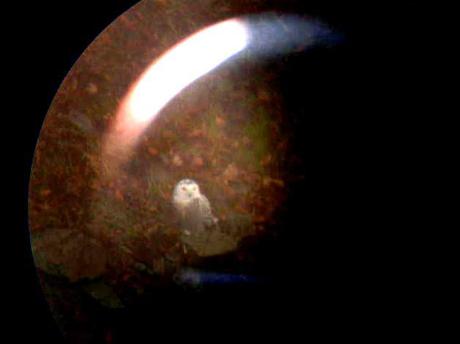 Snowy Owl (photo by Katie Barnes)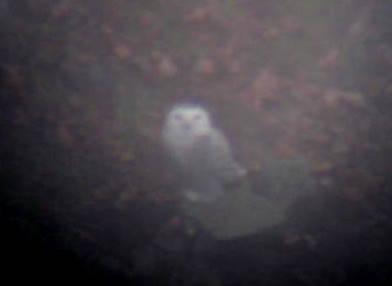 Snowy Owl (photo by Tim Schreckengost)
It is turning out to be an irruption year for Snowy Owls into the United States and eBird put together a nice post title Got Snowies? and provided a nice map of all the sightings of Snowy Owls for this fall and early winter thus far.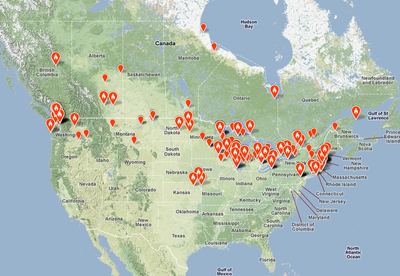 image credit: eBird.org
Also, better photos can be seen over at The Nemesis Bird! Be sure to check out Alex's photos and enter your daily sightings into eBird!