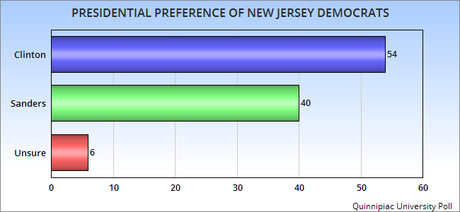 Bernie Sanders is dangling delegate-rich California before his supporters as the key to his path to the nomination. It's a lie. Hillary Clinton will have more than enough delegates to give her the Democratic presidential nomination before the polls even close in California on June 7th.
Currently, Clinton needs less than 100 delegates to clinch the nomination. On June 4th and 5th, the Virgin Islands and Puerto Rico will put Clinton even closer to the magic number of 2383 delegates. Then on June 7th, the first state to close their polls (New Jersey) will put her over the top rather easily.
The chart above was made from information in the new Quinnipiac University Poll -- done between May 10th and 16th of a random sample of 696 likely New Jersey Democratic primary voters, with a margin of error of 3.7 points. It shows that Clinton can count on winning at least half of New Jersey's 142 delegates -- and that will be plenty enough to put her over the magic number of 2383.
Clinton will then pad her winning delegate total with more delegates from New Mexico, Montana, North Dakota, South Dakota, and California later on June 7th -- whether she wins those states or not.
Sanders and his aides can toss around terms like "a contested convention" if they want, but the reality is that Hillary Clinton will win the nomination on the first ballot. That's just a fact.