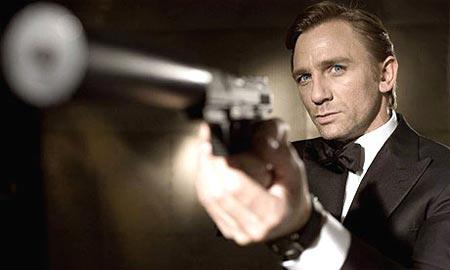 Bond is back. Photo credit: Sony
When the buzz around Bond 23 started to heat up as the release date was scheduled, we took a look at the early rumours surrounding the film. A month on, the film has a proper title (we think), a Bond girl (probably), and a Scottish castle. What do we now know?
1.   It's (probably) called Skyfall. Eagle eyed internetters in the US spotted that Sony Pictures recently registered a whole bunch of internet domains from "JamesBondSkyfall.com" to "Skyfall-themovie.net". "Bond 23" is now James Bond: Skyfall, it seems.
2.   There's a new Bond Girl. The Daily Mail reported that "French beauty" Berenice Marlohe is the latest addition to the cast. She apparently joins the returning Daniel Craig and Judi Dench, and new addition Javier Bardem. Ralph Feinnes is also on board, although his exact role remains unclear.
3.   Scotland. The film's grand finale will be filmed in a castle in Scotland, the BBC reported. Patricia Malcolm, who lives in Duntrune Castle, said "They are using the castle … for the end of the film." She also let slip that "they are going to bring their own snow," as well as the revelation that there will be "lots of bangs and explosions." Cape Town may also be getting the Bond treatment, hoped the TimesLive, with their film commission "publicly lobbying the Bond production company."
4.   Adele will sing. The Sun reported that songstress Adele will sing the official Bond song, as producers attempt to "set the charts alight," after recent Bond themes have failed to wow audiences. David Arnold, who has scored five previous Bond films, will write the soundtrack.
5.   The next Bond. Speculation about this James Bond instalment isn't enough for some, and rumours about Craig's replacement are already circulating. The Guardian reported that Idris Elba (The Wire, Luthor) has put his name in the hat: "I'd definitely consider it". He doesn't, however, want to be known as "the black James Bond." To prove that he's got the obligatory ability to indulge in those classic Bond quips, he added "I'm never shaken or stirred."