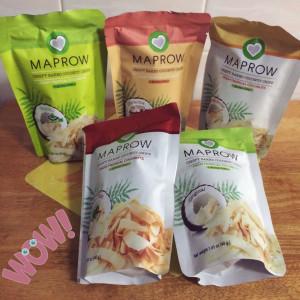 I am pretty sure I found the next big thing after Salted Egg Yolk Chips, (drum roll please.) Presenting coconut chips!!! What is impressive is that every munch, you can taste the flesh in each bite. To the extent, I am wondering, what don't they exist in bigger packets.
Fortunately for us all, despite Maprow being a Thai Brand, it is retailing in the shelves of Naiise. We don't really have to wait that long before sinking our fangs to these goodies. If you love the taste of Coconut, I am very sure this is going to be your favorite snack.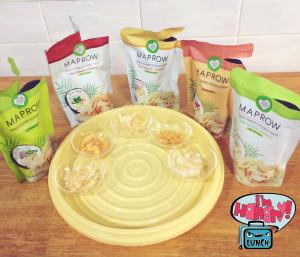 There are 5 flavours in total and I did a taste test on them all. All the chips have a pale, white exterior except for the spicy Tom Yum and Sriracha (You can totally see the flaming red in them. From Anti-clockwise:-
Original - You can totally taste the fragrance in each piece of the coconut chips. Best for those who love the authentic taste of Coconut.
Sriracha - This is like a salty and spicy version. These chilli peppers go really well with the taste of coconut
Honey - Initially, I couldn't really taste the different between that of the Original. The sweet honey only strikes as an after-taste. I think it sorts of dilute the taste of coconut. Good for people who like a light, mild coconut taste.
Tom Yum - Anything that Thai can go with Tom Yum. It is kinda of spicy so it mask the whole taste of the Coconut. (I thought it was a pity, cos I love the coconut taste!)
Wasabi - I had high expectations for this. But I think this doesn't go too well with coconut. At first taste, you would think it is a harmless origninal, until it shoots right through your nose with a vengeance. Shiok!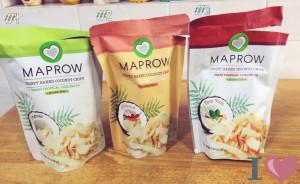 Different people obviously have different taste preference. But I am not going to hide behind this excuse and not give you top choices. I don't really think that this comes as a surprise but my favorite is the original. (Guess I like my coconut authentic.)
Sriracha and Tom Yum are a close fight for second but I went for Sriracha because it seems to complement the coconut more. I didn't go for Honey because it was not special enough and for wasabi I think my high expectations sort of affected its overall ranking. 
They are retailed at $2.90 per pack with a decent amount. So try it (before they become a hype and we have to queue), and challenge my rankings if you think your favorite flavor deserve to be ranked higher.