Parik Laxminarayan, Founder of Enchanting Travels, explains why the future of travel is in delivering a truly bespoke service.
In the early part of the last decade, as large mass tour operators and standardized package companies started struggling against market conditions, we sensed a growing demand from old and new travelers: the need for truly bespoke, personalized and authentic travel experiences.
With catalogs going out of fashion and a growing wealth of information available on the Internet, travelers started taking more control of their dream holidays by asking for a more customized experience tailored specifically to their interests, tastes and preferences.
We started Enchanting-India in 2004 to serve this growing need, with the goal of offering the best tailor-made holidays to India.
Eight years on, our company has evolved to become Enchanting Travels, offering tailor-made trips to 28 countries under the destination brands of Enchanting-India, Enchanting-Asia, Enchanting-South America and Enchanting-Africa. This growth was largely fueled by the ever-increasing demand for bespoke travel services.
The concept of bespoke travel services was not new, but the increasingly attractive tailor-made travel options acted as stiff competition to the traditional operators. Travelers now look for granular day-by-day plans, almost like a daily à-la-carte menu of travel services; with flexibility, agility and the ability to respond to questions immediately; and most importantly, in-depth destination knowledge to compete against the numerous information sources on the internet.
As a new generation tour operator, Enchanting Travels identified this trend and filled what was a clear gap in the market. Guests' value personalized service, live support, on the ground care and a great deal of intelligence work on their itineraries. As a result, the Enchanting service requires intensive man-hours backed by sophisticated systems and destination knowledge.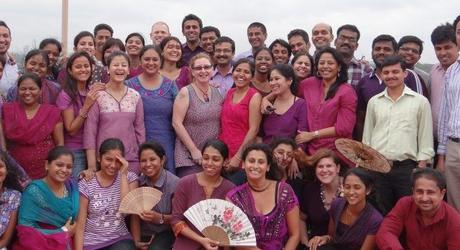 How did we do this and how were we able to pull off all this work and still remain competitive and compelling?
Our model was based on four key differentiators that enabled us to tap into and take advantage of this growing need and demand for bespoke travel services.
Destination presence and expertise: We train and employ both international and local travel consultants in the destinations we operate trips to. This way we offer great customer service, assurance and in-depth destination knowledge.
Sales and operational integration: With our sales/travel consulting and operations teams working in the same offices, we are able to have real time information on any operational or logistical query from a guest without having to go to a "DMC" or ground operator.
Digital marketing: The days of the high street travel shop are over. Travelers of all ages now plan their travel online, therefore by leveraging strong digital marketing and a solid website, we are able to attract and engage with our key market.
Trip support and execution: One of the biggest requirements in a tailor-made trip is information. Rather than outsourcing to a ground handler, our own team executes our trips resulting in every member of staff being correctly briefed on our guests' preferences. This enables a high level of quality, execution and agility during the trip to cater to the personalized needs of the new independent traveler.
This destination-based integration enables us to differentiate from other traditional operators as not only are we able to craft tailor-made itineraries but we can also effectively cater to our travelers growing needs for bespoke travel services at an incredibly individual level.
For authentic experiences and genuine care from a passionate team, explore Enchanting Travels and design your private, tailor-made trip today!