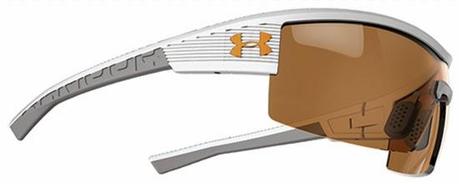 New York, New York - Under Armour® Eyewear is pleased to announce the launch of the UA Fire Hunter Mahan sunglass frame for golfers. Designed for both the professional and amateur player, the UA Fire incorporates the latest developments in lens and frame technology with a fashionable design for on-course play.
Designed for even the most elite athlete, UA Fire offers a wide field of view through its ArmourSight® shield. Co-molded rubber temples fit comfortably under a hat providing a comfortable, but firm fit for long hot days on the field or the golf course. "Working closely with the PGA golfer Hunter Mahan, Under Armour Eyewear's designers have created the ultimate performance frame for the serious golfer who demands the finest quality from their on-course gear" says Nick Gomez, Senior Product Manager for Under Armour Eyewear.
The style features an ultra light ArmourFusion® frame with AirFlow technology to prevent lens fogging in hot weather play. The UA Fire has a 3 point grip and adjustable nose pad for a comfortable and secure fit. All Under Armour Eyewear performance lenses protect against UVA, UVB and UVC rays. Gomez says, "Under Armour Eyewear has incorporated the newest technologies in lens and frame advances to this new style for PGA player Hunter Mahan. We are proud of the result and confident that the UA Fire will enhance on course play for both the amateur and professional golfer."
The UA Fire frame is available in black, gray and white and will retail between $99.99 and $109.99 at national retailers such as Golf Galaxy, Dicks Sporting Goods and The Sports Authority.
About Under Armour Eyewear; Under Armour Eyewear, a division of Eyeking, delivers superior vision, strength, comfort and adjustability. Eyeking has dedicated its efforts to offering premium quality products, excellent service, and a commitment to cutting edge styles that feature the latest in technology, performance, trend and value. Eyeking is a privately held eyewear company headquartered in New York.