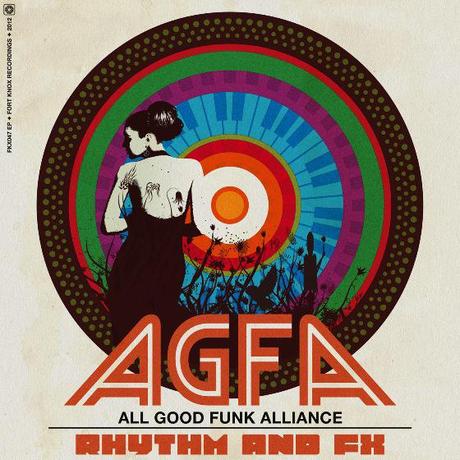 All Good Funk Alliance have just released a 4-track EP called Rhythm and FX and that is also the name of the tour. Starting tomorrow, All Good Funk Alliance will hit the road with Fort Knox Five, and on most dates will also be joined by Thunderball.
Here are the tour dates:
RHYTHM & FX TOUR 2012
Friday, March 9th – Jackson, WY – Pink Garter Theater *
Saturday, March 10th – Bozeman, MT – Zebra Cocktail Lounge *
Thursday, March 15th – Vail, CO – Samana Lounge
Friday, March 16th – Denver, CO – Cervantes Other Side
Saturday, March 17th – Durango, CO – Abbey Theater
Tuesday, March 20th – Breckenridge, CO – Three Twenty South
Wednesday, March 21st – Santa Cruz, CA – Motiv
Thursday, March 22nd – Sebastopol, CA – HopMonk Tavern
Friday, March 23rd – Arcata, CA – Arcata Theater Lounge
Saturday, March 24th – San Francisco, CA – Mezzanine #
* = Without Thunderball
# = w/ Quantic & Alice Russell Live
Here is a full streaming preview of "Sound Plus Matter", a free un-released track from the All Good Funk Alliance vaults. You can get the track as a free download by signing up for the Fort Knox Recordings e-mail list via the widget below the track preview.
All Good Funk Alliance - Sound Plus Matter
Full streaming preview of all four tracks on the EP:
Click Here
to purchase the new EP from Beatport.
Click Here to purchase music from All Good Funk Alliance via iTunes.
All Good Funk Alliance SoundCloud
All Good Funk Alliance Facebook page
All Good Funk Alliance Twitter
Share