Earlier in the week I posted the first batch of my new for Winter 2013 designs and today I'll introduce you to the rest.  I have a couple more florals and a few new cats in the line up.
Again, my pink/orange/brown color obsession continues!  I'm calling this one "Floral Brocade" although I really should call it "Gold Rush" as it has at least six different shades of gold metallic, one for each of the four backgrounds and other gold highlights throughout.  In person it is very shimmery!  This is 8" x 8" on 18 count.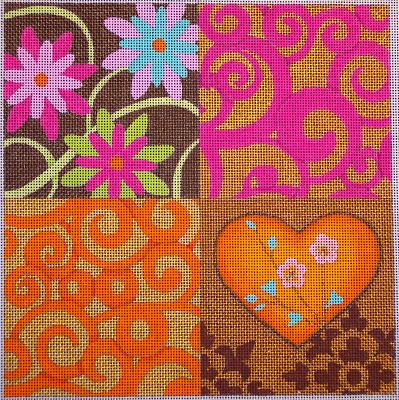 It's been a while since I had painted anything "Lilly" inspired so I added this-- "Lilly Damask", 8" x 8" on 18 count.  This is everything I like best, pink and green, swirl patterns, and of course just that fun preppy Lilly Pulitzer feel.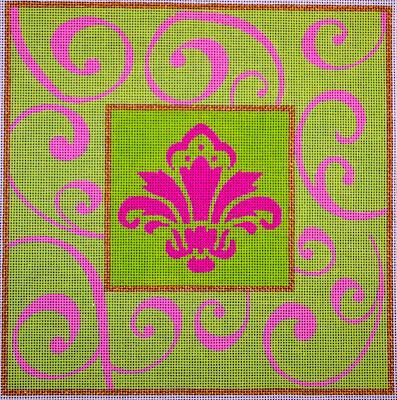 And last but not least, more designs for the fans of black cats (of which I am one, of course!)  This one is "Purr More, Hiss Less" and I like how fierce the eyes are-- it looks like that kitty needs to take that advice!  This one is 3.25" x 5.25" on 18.  It is sized to fit the Lee leather bags numbered 44, 45 & 52.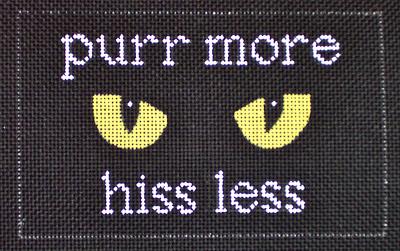 Also sized for the same bags is this one, two black kitties on a vibrant lime green background: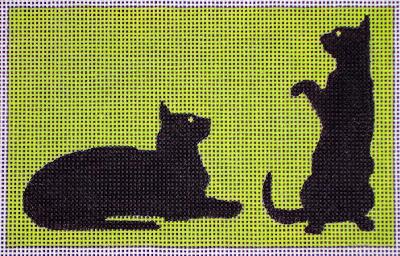 These last two kitty groups are sized 4" x 8.25" on 18 count and they will fit the Lee leather bags numbered 26, 46 & 47: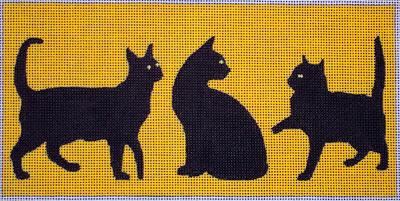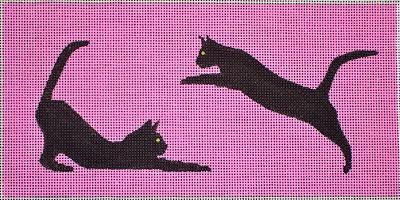 There you have them!  You should start to see these in your local shops soon, as most stores are placing orders this weekend during the Needlework Market.  If you see something you "have" to have, be sure to contact your favorite needlepoint source and make sure they order for you!  Happy Stitching!