With my latest club series, Crazy Patch Boo-nanza, arriving in stores April first, I thought it was high time to start introducing each of the nine individual club pieces.  Altogether the set consists of six candy corns and three pumpkins: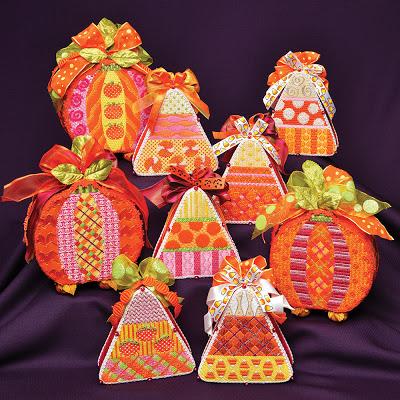 Here is the first candy corn that I am spotlighting: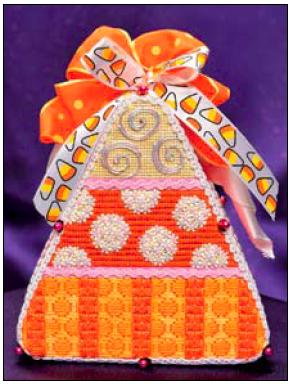 Don't they finish up so cutely with all the ribbons and bows??
Staring from the tippy top, this is the area with the swirls, stitched with a variegated Threadworx floss background with DMC Memory Thread and Swarovski sequin swirls: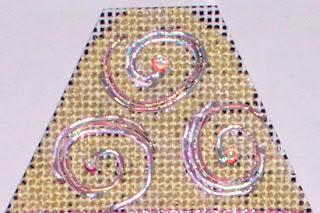 The center stripe is framed with Rainbow Gallery's Water N'Ice and miniature-sized Rick-Rack:

The dots on the center stripe are piled high with flower shaped sequins from The Collection: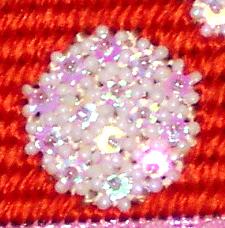 Sometimes, I like to use really big stitches in really small areas.  The bottom stripes are a good example, this is sequin stitch worked in Vineyard Silk and Belle Soie.  The narrow stripe is a variation of Shadow Scotch with wool, rayon and beads for a variety of texture.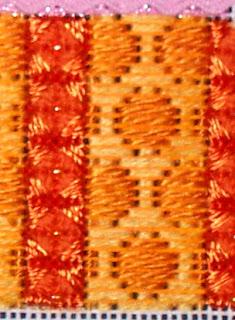 Here's the whole candy corn, prior to finishing: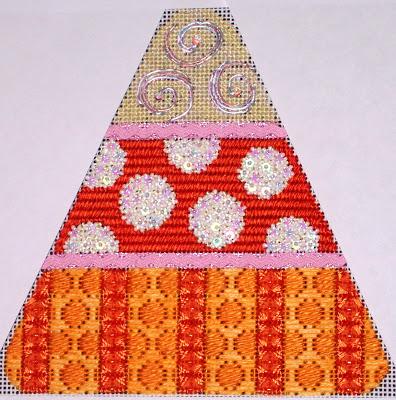 Hope you have liked what you've seen so far, I'll be showing more over the next few weeks.  As with my other clubs, I have strived to give the stitcher the greatest variety of threads and stitches possible with few repeats within the series, the surest way to keep things interesting!  See you next time when we will be checking out one of the pumpkins!