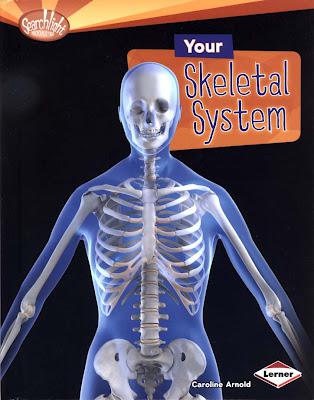 The skeletal system is made up of about two hundred and six bones.  But what exactly is a bone? And how do bones help your body function?  Explore the skeletal system in my new book.
Your Skeletal System is an updated and reillustrated version of my earlier book, The Skeletal System, that was published in the Lerner Earlybird series. (It was also available in Spanish as El Sistema Oseo.)  The new version is part of a series How Does Your Body Work? in the Lerner Searchlight series.  It is also available digitally as a Lerner Interactive Book.
Your Skeletal System is perfect as the inspiration for art and science projects, especially in October in preparation for Halloween.  Here are some active skeletons, created by students several years ago at  Myers School in Salem, Oregon.  I love the way they appear to dance, leap, wave, and look alive.