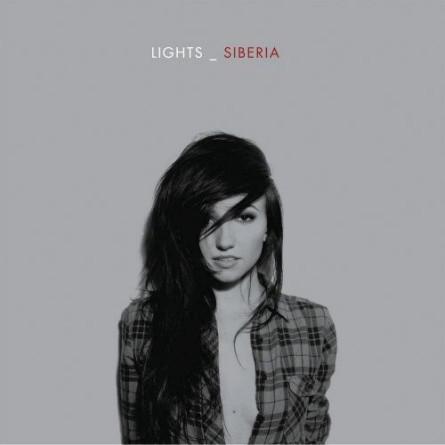 I've always felt with Lights you can tell what season it was when the songs were written. Her debut album, The Listening was specked with frostiness in February Air and Ice as well as between albums teaser Boots, entwined with more hopeful sun blessed tracks such as Drive My Soul, The Listening and The Last Thing On Your Mind. With Ontario's mild yet biting winters it is hardly a stretch to consider that sophomore offering "Siberia" is a hat tip to her home province.
The hallmark's of the band's sound was always one of contrasts, light and driving synth interrupted on occasions by crashing bass notes and a sense of timing making even the less searching of songs sound like epics. The rhythm of Siberia is driven by electronic percussion above her musicianship which, while obviously in the foreground is part of the bigger picture here with more intricate arrangements and overlapping.
Everybody Breaks a Glass was the first glimpse of the album at the start of the summer, featuring music and vocals from Holy Fuck and Outroversion's favourite rapper- Shad. His verse flows nicely and fits in well rather than breaking through the crystaline musical scape laid down by Lights who shows wonderful fragility in the face of a huge track. He features once more later on the danciest of all the tracks- Flux and Flow.
Lights has always had an art for displaying the dark and light in every song. Here Heavy Rope is reminscent of the hopelessness and hope of Last Thing… but wonderfully contrasting in pace to Timing is Everything  but with the same amount of heart.
The only criticism I really thought carried any weight of The Listening was that it was a hugely different animal live and that was very true. At times there was a sweetness on the record that wouldn't win everybody over but live it was a shaking and craning leviathan that it was impossible not to be gripped by. This is the hugest difference here as her sound is very much Lights but somehow on Siberia what makes the group brilliant live seems to carry over to the recording and that's as welcome as anything else offered here.
While the Listening was a block of glistening ice which thawed with each listen to reveal a masterpiece, Siberia is already well sculpted and while over time it may prove to be more refined and dazzling it's already a pleasure to witness.
Before I saw Lights live I was in two minds and after I eventually saw them was pretty disappointed I missed the first opportunity, if you get the chance do I haven't seen anyone the past few years who controls a venue quite like she does.