I've been experimenting with acrylic painting on canvas board in order to be able to coat it with a high gloss varnish finish.  In this new abstract painting, I used a combination of brush, palette knife, and drawing lines directly from the paint tube.
After the canvas board completely dried, I gave it 3 coats of Matisse Polyurethane Gloss Varnish.   It looks super high gloss, but unfortuantely you can't tell that on a computer screen.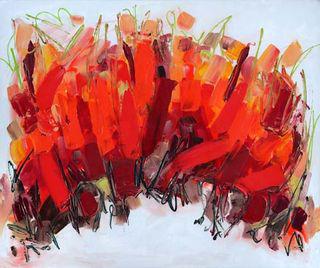 Acrylic on Canvas Board #1, 30" x 24"