After finishing four tall canvases, I started working on some small paintings on paper.  I am using a watercolor block, 20" x 14".  The multiple sheets of paper are attached to the block, but when the top painting is finished and thoroughly dry, it can be easily removed with a palette knife. 
This new abstract painting has a landscape feel to it, with horizontal swaths of color from deep red to yellow.  The background is parchment with white highlights and touches of other colors blended in.  Alizarin crimson and cobalt green add some darker highlights.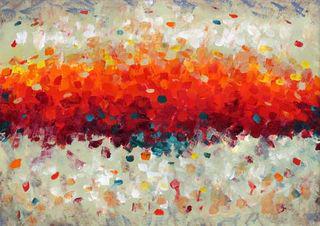 Paper block #1, 20" x 14" acrylic on paper.