Recently I tried a couple of abstract paintings on canvas panels instead of stretched canvas so that I could use a polyurethane varnish on them to create a higher-gloss finish. Painting on the panels has a different feel than stretched canvas.  The paint seems to stay wetter longer, remaining on the surface rather than sinking into the canvas. 
In this new painting, I created a central image in reds and oranges, using a cobalt green for contrast.  I painted the background with parchment, white, and unbleached titanium, blending these with the other colors.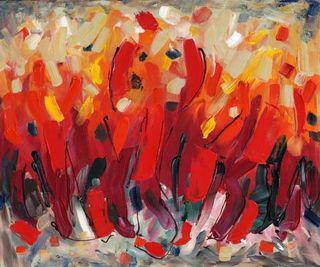 Canvas Panel #3, 24" x 20" acrylic on panel.