In this new abstract drawing I used a sweeping "landscape composition" similar to the previous drawing with fall colors.  Instead of making this one with spots of color, however, I used the large end of my calligraphy pens to make broad zig-zagging lines across the paper.  Then I overlapped colors, moving from dark red to greens at the bottom and light red to orange, yellow and paler shades at the top.
To provide more interest and structure, I used a fine-point black pen to outline some of the negative spaces and paler calligraphy marks.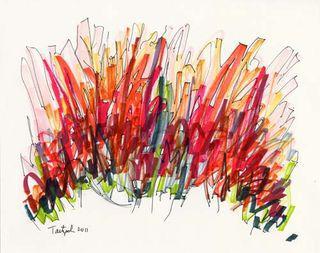 2011 Abstract Drawing #23, 11.5" x 9" acid-free inks on archival paper.