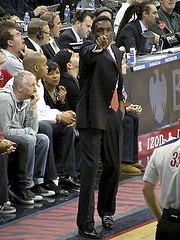 Avery Johnson Makes His Point (Photo credit: MattBritt00)
In a shocking development out of Brooklyn, the Brooklyn Nets have fired head coach Avery Johnson after a 14-14 start to the 2012-2013 NBA Season.
Despite breaking .500 so far -- much better than the past couple years -- the Nets' front office was unhappy with the team's progress this season. They figure a team composed of Deron Williams, Joe Johnson, Brook Lopez, Gerald Wallace and several other talented role players such as Kris Humphries and C. J. Watson should be at the top of the East.
After a great start to this year, Brooklyn has only won 3 of their last 13 games; giving them a record of 3-10 in the month of December after an 11-4 November.
P. J. Carlesimo has been hired as the team's interim head coach.