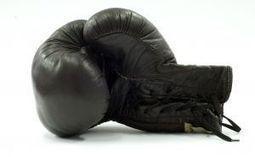 One of the things that people say is a Netflix negative is a large selection of new blockbuster releases. That's about to change due to the combination of an exclusive streaming license agreement it has with cable channel Epix, which is a joint venture between Viacom, MGM and Lionsgate, which backed the popular blockbuster The Hunger Games. Also expected to join the Netflix lineup is The Avengers in 2013. Another popular series available on Netflix right now is The Walking Dead, which boasted 9 million viewers for the second season finale. AMC should be releasing the 2nd season to Netflix most likely this summer. Anders Bylund says "If Hunger Games and The Walking Dead don't motivate a significant influx of new Netflix subscribers in the second half of 2012, I'll buy a hat just so I can eat it." We concur, Anders!
Not everyone is happy about Neflix – particularly cable and satellite TV providers who bundle hundreds of channels into a highly priced but convenient package for subscribers. Yesterday, Dish Nework said that it decided to drop AMC and a bunch of other channels from their lineup because streaming services like Netflix are devaluing them by making them available on multiple outlets. Dish Chairman & CEO Charles Ergen says "Those particular channels are also available to our customers through a variety of other sources, like iTunes, Amazon and Netflix."
It's scarcity that makes programming more expensive to consumers, but there comes a time when scarcity backfires on the entity making it difficult and expensive for consumers to access the content. It's actually laughable that Ergen makes this statement with a straight face after The Walking Dead's 2nd season finale. It's my guess that Dish is trying to scare AMC into eliminating it's agreement with online content providers in order to restore precious scarcity, so that they don't begin to lose their paying subscribers to these streaming services. Additionally, because AMC programming has done so well, they increased their costs to Dish and other satellite and cable companies by 35 cents a subscriber. AMC only provides it's former season's libraries to Netflix, but new programming is made available to bundled Pay TV subscription providers.
Ergren is correct when he notes that his customers are resistant to paying more money for their subscription. Market forces are screaming for a la carte choices instead of these mega bundles where we are forced to pay an unaffordable monthly fee for a modest amount of programming. Both entertainment companies and satellite/cable TV companies are nervous about their fragile business models right now. It's my belief that the reason Hulu.com may resort to an authentication requirement is because they are being pressured by their collective owners, despite their announcement that they made millions in advertising fees. By making anyone wishing to stream on it's free platform prove they are already cable or satellite TV subscribers, they are in essence trying to force consumers to *not* cut the cord.
Christophor Rick of www.reelseo.com noted that they may gain the attention of the U.S. Government in possible ant-trust issues because of what looks like bullying tactics to force people to refrain from cutting the cord. But even if the government says "hey, they can do whatever they want," it's my guess that they will lose significant advertising revenues, and they will probably anger more people into cutting the cord when they realize the manipulation tactics. Rick believes that's why Providence Equity Partners sold their shares to the other owners.
Rick also pointed out that much of the content on Hulu is free over-the-air in most markets. There could be a whole lot more antenna sales going on, and if pay TV makes it to streaming like with services Aereo or Skitter TV, it will likely be the straw that breaks the camels, or the business model's, back.
Also, many entertainment companies are keenly aware that it is the popularity of streaming services like Netflix that are actually boosting the ratings of shows that people might not otherwise tune into. By being able to watch old libraries of content, viewers are developing an appetite for newly released content. Of course, then we also develop a group of cord cutters who are willing to wait for the next season's library, and that's precisely what has cable and satellite providers nervous.
To learn more about Netflix subscription pros and cons, click here.
Originally published on www.videostreamingserviceproviders.com
Sources:  http://www.dailyfinance.com/2012/03/22/netflixs-strategy-plays-out-if-you-build-it-they-w/?source=edddlftxt0860001
http://adage.com/article/mediaworks/dish-netflix-devalued-amc/234606/