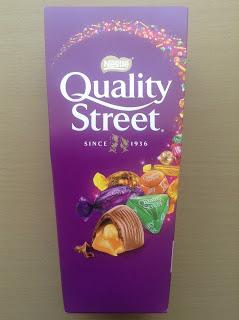 I've gone off Quality Street the last few years, they're ironically not very quality chocolates anymore and they're sold all year round so they're not that special either, but one thing I used to like about them was that they'd introduce a new variety every few years. My favorite was the Forest Fruits cream they once did, and since then they've had a few others such as Malt Toffees, Chocolate Toffees etc. Gone are the Coffee Creams and Peanut Cracknells that many used to love, replaced with a Milk Choc Block, and now this new, exciting, exotic variety...Honeycomb Crunch.
As well as this new variety, they've also updated the packaging design, it looks a little more traditional than the previous incarnation.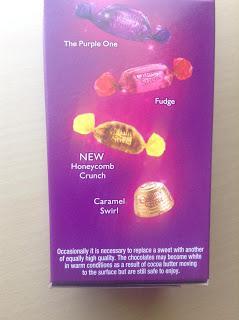 I suppose I can see why they went with such a pedestrian flavor for a new chocolate, after all Quality Street is a traditional brand and I don't think most older people who used to love it would appreciate anything too fancy. Still, I felt a bit disappointed...but I still wanted to give these a try if only to moan about how rubbish they are.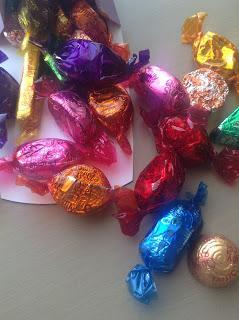 My chance came when they were reduced to £1.50 a box in Tesco recently, probably as a special offer to co-incide with Fathers Day. Although it seemed like a good offer, there weren't as many sweets as I remember having in a box of Quality Street a year ago...I suspect some size shrinkage has been quietly going on yet again.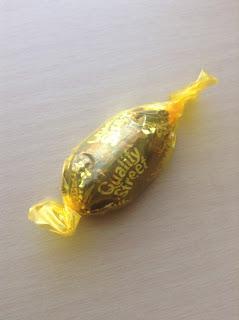 The Honeycomb Crunch has a golden wrapper which stands out well amongst all the other chocolates.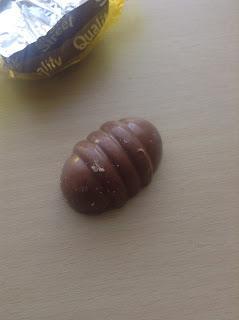 It has a sort of barrel design which is quite distinctive...I want to say that it's almost bee-shaped to fit with the Honeycomb theme.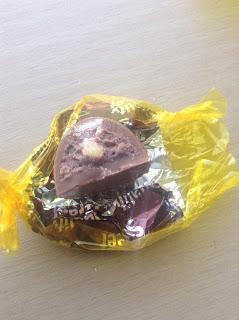 Taking a bite, I was disappointed to find that this wasn't a whole honeycomb, but rather a truffle with honeycomb pieces mixed in. It tasted very sweet, with extra crunchy sweetness from the honeycomb pieces, but it wasn't anything too exciting, certainly not on the level of Cadbury Crunchie honeycomb. I wasn't surprised to be honest since my expectations were low right from the start.
The rest of the chocolates were the standard Quality Street ones...I liked the strawberry and orange creams and caramels, but the toffees were too hard as always, and the Milk Choc blocks were plain boring.
Overall, I'm really not very surprised by this new addition to Quality Street, it's very safe and pedestrian and won't bother grannies too much...but I won't be buying Quality Street again, probably.


6.5 out of 10.