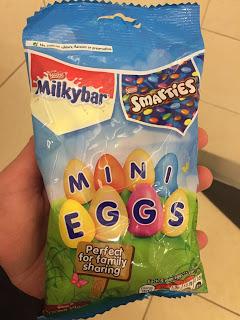 Phew, the Easter treats have been flowing thick and fast this week, with this being my third review in a row of Easter eggs. What can I say - avoiding the sweets during January has made me go a little crazy!
As well as Reese's Creme Eggs, Milkybar Mini Eggs and Marks & Spencer Jazzie Eggs, another one I had to include on my list to try was this mixed bag of Milkybar and Smarties Mini Eggs, notably available from Tesco but I've also seen it in B&M Bargains. This bag is actually better value than purchasing a bag of Milkybar Mini Eggs and a bag of Smarties Mini Eggs from Tesco for £1 each, as they only contain 90g per bag, whereas for £2 this contains 300g! You really can't argue with that when it comes to sugar.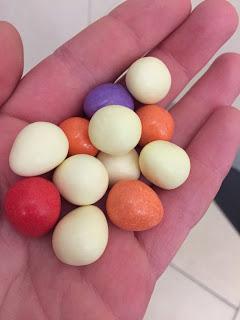 The best thing about this bag is that not only does it contain the lovely Milkybar Mini Eggs, it contains regular Smarties Mini Eggs AND Orange Smarties Mini Eggs, so you're getting the best of all three worlds! And to top it off they're all #glutenfree, woohoo!
I loved popping these in my mouth without looking so I wasn't sure what I would be getting. The Milkybar Mini Eggs were my favorite followed by the Orange Smarties Mini Eggs. The plain ones are just...plain, nothing to write home about but they add a different color variation to the bag I suppose?
Overall, this mixed Sharing bag is a fantastic idea from Nestle and one I would highly recommend to fans of Smarties and Milkybar Mini Eggs. It's the perfect Easter Egg Hunt pack for the kiddies and great for getting a nice mix of differing flavours.
8.5 out of 10.