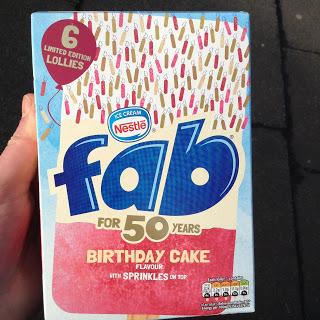 Nestle Fab Ice Cream is 50 years old, who would have thought it? To celebrate they've brought out this new special Birthday Cake Flavour lolly with Sprinkles on top, costing £2 for 6 lollies. When I heard this was out it was one of those things I just had to try, I love me Birthday Cake flavcoured products (who can forget the Birthday Cake Popcorn?!) so to Sainsbury's I went!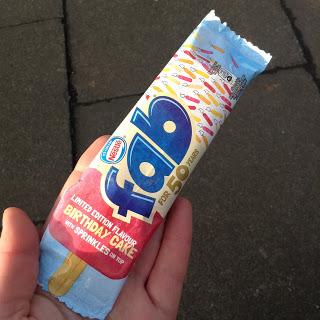 I haven't eaten a Fab Lolly in years, probably since I was a wee child in fact. So I did feel a bit self-conscious scoffing this whilst people walked past, but I consoled myself with the fact it's in the name of research.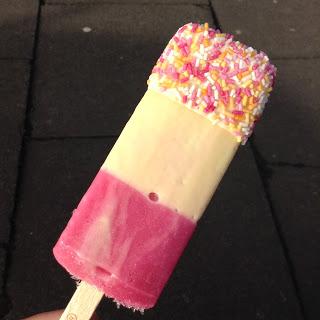 The ice creams are described as "Raspberry water ice and sponge cake flavor ice with a vanilla flavor coating and sugar strands". Opening one, it looked and smelled lovely. Of course I bit straight into the sprinkly bit first!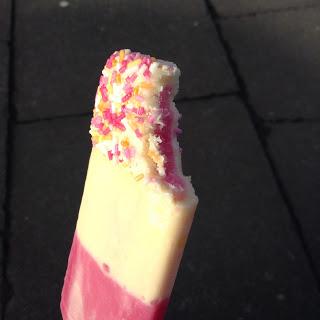 It tasted lovely; sugar laden, crunchy and creamy all mixed together. The vanilla is quite prominent whilst the raspberry ice underneath complements it nicely. Once I'd got past the sprinkles layer however, the lolly became a tad boring; there's far too much raspberry ice and not enough sponge flavor ice. It's too fruity and not creamy enough.
Overall, I did really enjoy these ice creams, but mostly for the top half - the raspberry bit kind of spoils them and I think they should have reversed the sections so there's more of the cake flavor ice. Whilst not perfect, these are still a fun novelty edition and I'd recommend giving them a try.
8 out of 10. 
Nutrition Information (per lolly): 2.2g Fat, 11g Sugars, 0.06g Salt, 76 Calories.
Ingredients contain: milk, maltodextrin and soya. Suitable for vegetarians.