There are many leading names in the managed WordPress hosting. However, Nestify is one name that is one of the fastest web hosting providers for the WordPress websites.
When we tested the Nestify for the array of features available for the managed hosting and checked its interface, we were sure that Nestify is another strong contender in the hosting marketplace. Along with its fantastic features, its price is also very comparable.
Any blogger or small website owner can host their site with Nestify. While Nestify offers a great deal of features, its prices are very affordable and loading time is spectacular.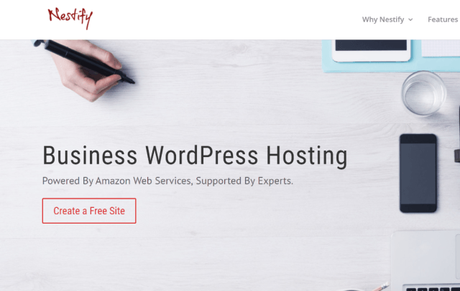 Hence, if you are interested in operating a new WordPress site, then Nestify has more to offer through its 55-second launch process.
Today, we are going to review this managed WordPress Host, Nestify and talk about it in details, so you can also be aware of this new entrant in the managed hosting. We will also test the loading time of any website along with the features like the security of your site.
Features of Web Hosting Services Offered by Nestify
Nestify provides a gamut of services rather than just a piece of the server for the website hosting. The kind of features that Nestify offers at such low prices cannot be found anywhere else; even the shared hosting cost you more than this. Below we are mentioning all the important features offered by this web host.
It has the capability to start a new WordPress website in only a few minutes.
The infrastructure of the Nestify is powered by AWS (Amazon Web Services) and also the sites it hosts.
It offers an integrated cache facility to its clients.
It provides high-grade security features such as DDoS protection, malware protection, and firewalls, etc.
It offers a free SSL provided by Let's Encrypt, which comes as a default setting for your site.
It updates all the plugins, themes as well as the core with just a click.
It renders its clients with automatic backups on demand. It also has a facility to restore all your data with just a click away.
It also has an in-built content distribution network.
It has the capability to roll back the website to the earlier stage with only one-click.
It has a unique feature called 'self-heal.'
It uses PHP 7.0 for the better capabilities.
It renders its customers with the free setup and migration services.
Along with the above features, Nestify also offers a brilliant and unique feature called " On Page Optimization," which allows you make refinements to the Adsense/Google Analytics, CSS and Java scripts for the enhanced performance. Nestify is also compatible with Git and provides SSH and WP-CLI access.
Optimized and Efficient Nestify Servers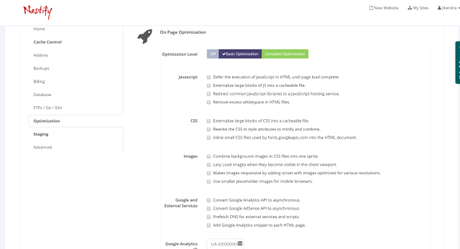 Nestify means serious business. For people, in search of a web host for their high-priority website, can contact Nestify and this web host has optimized servers for the significant performance. The professionals working with Nestify are very qualified and have worked hard towards achieving the stability and high speeds.
Cache Facility Along With CDN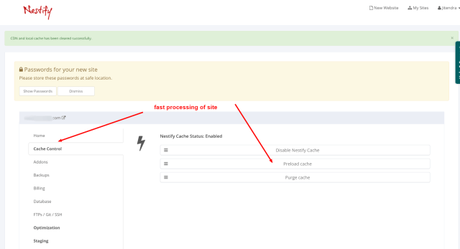 The various hosting plans by use CDN (content delivery network) and caching to make sure that the content of your website is uploaded at faster rates. If we talk about caching for quick loading of a web page, there are many alternatives including implementation. Defining URL's that are never cached, selecting an optimization stage as well as employing entire page caching are the facilities that can make sure that your site is being cached aptly.
There are three locations provided to the clients for the selection the region that is in proximity to the target market and audience. These places are Asia, Central Europe, and North America. Since the traffic of your site is directed via different 86 data centers from the Railgun enabled CloudFlare content distribution networks, the content of your website will be transferred from the region closer to the users of your site.
Complete Site Management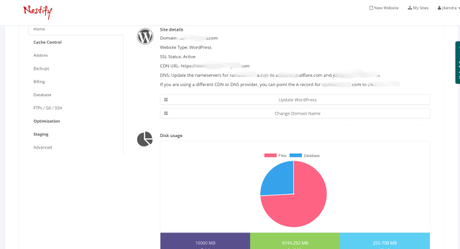 We took a demo website and used it to check the capabilities of services provided by the Nestify web hosting services and loaded this particular site through them. Surprisingly, our site was uploaded very quickly. However, if you add your own web page or introduce your own application, it might not be that fast. Hence, for the quick loading time, the Nestify makes sure that their customer support team keeps an eye on your website 24*7.
The technical team of the managed web hosting services company Nestify is always ready to assist their clients with the optimization and improvement of their websites for optimum outcomes. All the complications faced by the website are handled by their dedicated team that guarantees the best uptime and significant response time. Nestify provides a scalable service, and in a case where the content becomes popular and trendy, then their team can easily control the unexpected load on the server.
Level Of Security
Nestify managed hosting is developed in such a way that it should be able to serve the various business demands especially the need of a crucial website with the focus on the safety and security of the site. This is a significant point to consider as no business whether small or large, would like to lose any website content or data at any cost.
This is not something that any individual or business would appreciate or even expect. While loss of a blog post or several photos, or videos, might not cause much of damage, it puts the reputation of the company at stake, forget about the critical information loss that might disintegrate one's business.
The nestify team stays upgraded and in touch with the latest advancements in the technologies, so that they are able to defend against various DDoS attacks, detect compromised browser and block various malicious attacks. Hence, you can be free from the worries of the security of your website as the Nestify has the solutions to safeguard your website from various security threats.
This helps the clients to cut on additional security tools and software, and they can concentrate on their core business activities. Thanks to the excellent work done by the Nestify team!
Nestify saves all your database content and files on the SSD drive with RAID 10. This helps in the maximum protection of your data and even if some data is lost, it can be easily retrieved. Hence, the content of your site can be replicated with high degree of redundancy and if there is any problem or any issue with even a single server, the retrieved data or content can be facilitated immediately.
Backup Facility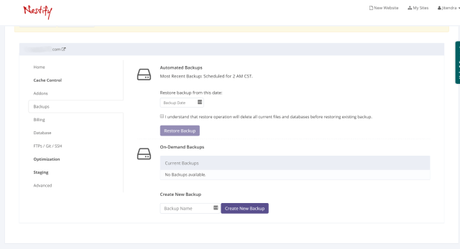 In case, you select Nestify as your web hosting partner, you would not need to worry about the backup of your website content. The Nestify team ensures the automatic backup on regular basis. However, you can also control and see the backup plan through the user interface provided to you. While most of the backup is scheduled automatically, you can make every single change as per your requirement.
When your site is stored by Nestify backup system, you can easily restore your content with just a click. This will let your site to roll back to the earlier stage with previously saved content. These backups are saved for the duration of 30 days and storage place is in an offshore location through Microsoft Azure's 'Geographical Redundancy Storage.'
Guaranteed Delivery Of Transactional Emails
Many businesses utilize their websites for various email transactions with the users of the website. this functionality of the website is also supported by the Nestify and it guarantees the delivery of any business email if it is a service included in your website. With the help of SendGrid service, Nestify has established a system that ascertains the delivery of any transactional email. It also ensures that the email do not get stuck in any spam folder.
Important Features For Developers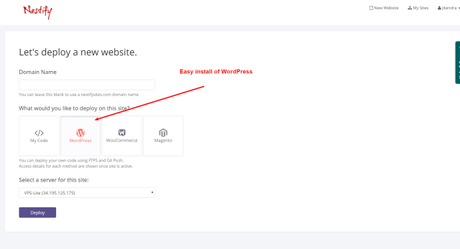 Nestify tries to offer the special benefits and features for your website. it believes in providing scalable solutions for your application so that they can provide you with all the necessary aids for the improvement of your website. keeping all these things in mind, Nestify has developed the staging of the website feature especially for the developer's point of view. This one-click feature plays an important role for the developers of the site.
However, this facility is offered with only selective plans. This feature assists the developers with a conducive environment to perform any alterations on the site and its content without any security fear. In fact, the changes can also be reversed of not appropriate for the successful results.
After the completion of the work, the website can go live again with just a click.
The one-click staging feature is a blessing for the every category of the WordPress users. With all these facilities and securities, the editing of the website content becomes easy and practically useful.
Industry Standard Dashboard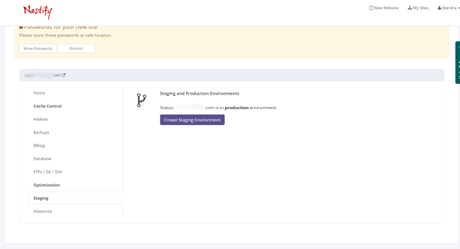 The dashboard provided by Nestify also offers an account area, which has all the information about the website and other related details. Their dashboard is great and gives you the access to the credentials such as account billing, login details, disk usage etc.
Free Site Migration Facility
If you are facing problems with your current web host regarding slow uploading time or outages, then you should consider about migrating to a host that can resolve your outage issues. We think Nestify site migration service would appeal you at this point of time, as they can help you migrate your site for free.
They have the capability to migrate nearly every website with no downtime. So in case you are stuck with your current host and are in trouble, you know where to go.
Pricing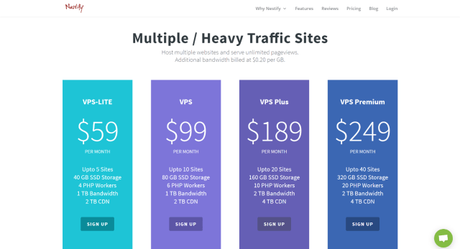 The pricing of the Nestify is its key feature amongst its distinct services. This separates it from the competition. Nestify becomes a clear winner when it comes to affordable prices. Seeing all the features offered by the company, no one can imagine that their prices can be so low that the range of their costs that put them in under the lowest tiers from Flywheel and WP engine.
Considering its features, we assumed that the pricing of Nestify would start from minimum of $20 a month, but to our surprise it was way lower.
Anyone can pay them as low as $5.99 a month for the website hosting. This amount is for the traffic of 25,000 visitors on monthly basis along with 5 GB of SSB storage.
Although, this plan does not offer staging, but at this amount, there is nothing to complain about! However, the pricing for its other monthly plans are $8.99 and $11.99, and both these plans include staging as well as more traffic. You can check the Nestify plans in the table given below:
In addition to the visitors, all these prices include the single domain. For every additional domain, there is an extra monthly cost of $3.99.
All the plans offered by the Nestify include a specific number of visitors. And in case, you get a massive traffic with more visitors than usual, Nestify would not cap you or terminate your services. In fact, initially for the three times, Nestify does not charge anything for the additional traffic or visitors.
However, after the third time, you will have to upgrade your plan to the next available option. And we believe that it is a fair deal. Besides all these, Nestify also provides high-priced VPS plans.
Over To You : You Can Try Nestify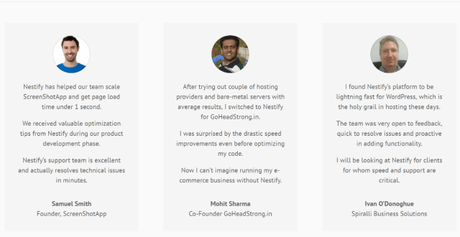 Initially when we heard about Nestify, we were not very impressed. But, after digging deeper into the services and features offered by this web host, we think that Nestify is way better than it the way it is being represented, eg Nestify display their landing page on Divi, which we believe, is rarely used by any WordPress managed web host.
But as we say, we should not be prejudice to something we have not used. We checked every aspect of Nestify, whether the great speed, or high performance, brilliant dashboard or lower prices, it all impressed us.
And above all, they offer a free trial. So you can sign up and check it yourself. We are sure that Nestify Review will appeal you as well. For any query or suggestion, please leave a comment.