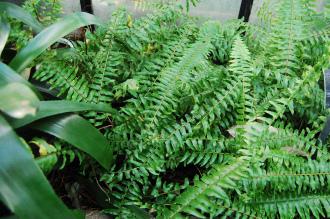 Nephrolepis falcata (16/01/2016, Kew Gardens, London)
Position: Full sun to partial shade
Flowering period: N/A
Soil: Moist, well drained
Eventual Height: 90cm
Eventual Spread: 60cm
Hardiness: 9b, 10a, 10b, 11, 12
Family: Lomariopsidaceae
Nephrolepis falcata is a tropical to sub tropical evergreen fern with a clump forming , spreading habit. It should be noted this fern will lose its leaves during the winter months at the lower end of its hardiness range. Its mid green leaves are in the form of fronds, up to 70cm long and 11cm across. Its leaflets are up to 8cm long and sickle shaped. Its roots contain stolons which aids its slow spread.
Nephrolepis falcata, commonly known as Weeping Sword Fern, is native to the Philippines, Malaysia, Thailand and Vietnam. In its native habitat it grows as a woodland understory plant.
The etymological root of the binomial name Nephrolepis is derived from the Greek nefros meaning 'kidney and lepis menaing a 'scale'. Falcata is derived from the Latin falcatus meaning 'sickle shaped'.
The landscape architect may find Nephrolepis falcata useful as an attractive foliage houseplant suitable for indirect bright to medium light levels. It may be planted in a hanging pot, allowing its long leaves to hang.
Ecologically, Nephrolepis falcata is of little value to UK wildlife.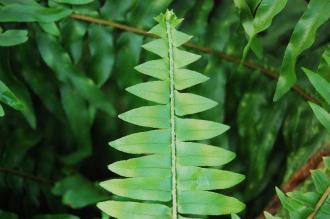 Nephrolepis falcata Leaf (16/01/2016, Kew Gardens, London)
Nephrolepis falcata prefers moist, fertile, humus rich, well-drained soils. It tolerates most pH of soil.
When maintaining  Nephrolepis falcata as a houseplant its soil should be watered regularly. Watering should be reduced during the winter months. Its preferred active growing temperature rages from between 16ºc to 26ºc. Feeding with weak fertiliser solution should be carried out once a month during the growing season. Its leaves may be sprayed with water to improve humidity.


Landscape Architecture