I love curries with mixed vegetables. My mom used to make them often when we were growing up and I was used to that concept of mixing different veggies to make a curry. I was surprised when one of my friend said she was not used to dishes were random veggies were mixed together to make a curry. I thought it was common in every household.
This curry is right up my alley and I really liked it when served with rice. But it will taste good even with roti. This curry is usually served with dal-bhat.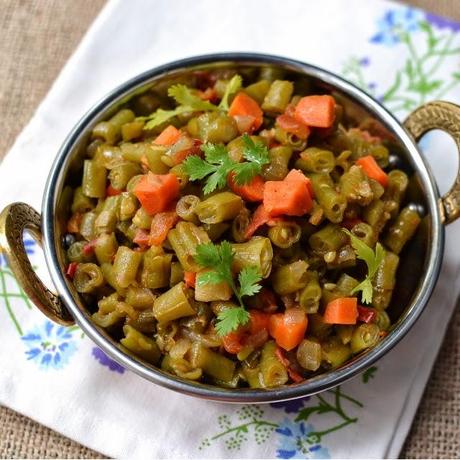 Recipe adapted from Zach's Travel Musings, here
:
Ingredients
: Green Beans - 2cups, chopped Carrot - 2 small, chopped Onion - 1 small, finely chopped Ginger - ½" piece, finely grated Garlic - 2 cloves, finely minced Tomato - 2 medium, finely chopped Red Chilies - 1, finely chopped Ground Cumin - ½tsp Red Chili powder - ½tsp (adjust as per taste) Turmeric - ½tsp Garam Masala - ½tsp Salt - to taste
Method
:
Steam or microwave the veggies until just tender.
Heat 1tbsp oil in a saute pan; add the onions, ginger, garlic and red chilies. Cook till onions are lightly browned. Add the chopped tomatoes, ground cumin, turmeric, red chili powder and salt. Cook covered till tomatoes turn mushy.
Add the precooked veggies, mix well. Add ½ cup of water; cover and cook till the curry has a thick saucy consistency.
Finally add the garam masala, mix well and turn off the heat.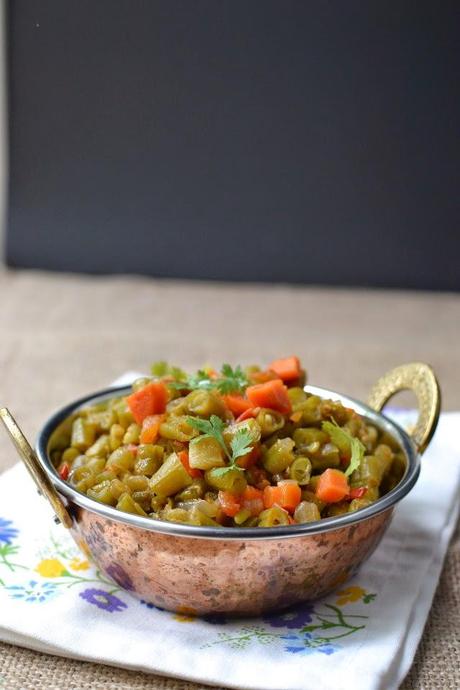 Check out the complete Nepali Thali here.