25th April became a very sad day for the Himalayan Nation as tremors  occurred at 11:56 NST  with a moment magnitude (Mw) of sub 9 and a maximum Mercalli Intensity of IX (Violent). Its epicenter was approximately 34 km (21 mi) east-southeast of Lamjung, Nepal; it sent the Nation reeling with thousands of deaths and more rendered homeless. In remote mountain villages near the epicenter of Saturday's massive earthquake in Nepal, receiving outside help has become a matter of life or death.
In the midst of this terrible disaster, there is a slender silver lining for Nepal: The international community—from economic giants like India, China and the US, to tiny Bhutan and faraway Israel—has responded swiftly and generously to help search and rescue efforts in one of the world's poorest nations. Within four hours of the earthquake on April 25, New Delhi dispatched the Indian Air Force's first C-130J super Hercules aircraft with members of the National Disaster Response Force.   

The Modi Govt acting with great alacrity immediately despatched   groups with  three army field hospitals and civilian doctors.  Thirteen military aircraft and three civilian aircraft from Air India and Jet Airways were also been pressed into service to help the rescue operations.  In addition, six Mi-17 helicopters and two Advanced Light Helicopters were also  deployed.  The Indian government has also sent ten tonnes of blankets, 50 tonnes of water, 22 tonnes of food and two tonnes of medicines to Kathmandu.

Indian nationals stranded in Nepal are also being evacuated.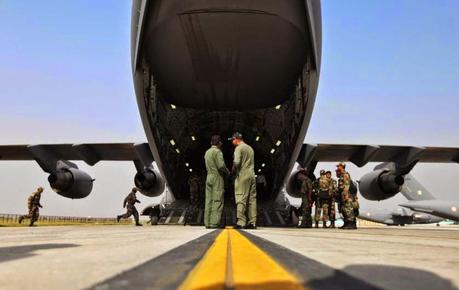 Named ' Operation Maitri' [meaning friendship] – it seemingly well schemed and well executed,
as the response started almost within 15 minutes of the quake.  In any relief operation, planning is most important.  Immediately after Tsunami, when we went to coastal hamlets of Tamilnadu, some groups [with good intention] had brought in lot of clothing – but that was not the need of hour, and they were strewn along the path. 
Besides the full-hearted assistance rendered,

India  is also facilitating the movement of various international rescue teams as the IGI Airport, Delhi  has turned into a transit hub.

According to sources, the Delhi airport has become a hub for the aircraft of various countries such as Russia, Canada, Belgium and the Netherlands.  An airport official said the traffic of non-scheduled flights has increased by almost 20 per cent since the April 25 earthquake in Nepal.  The official added that the Indian agencies, including the air traffic controller (ATC), Delhi airport operator DIAL, the CISF, the Delhi Police and others, are helping international rescue teams who have set up base at Delhi IGI Airport.  The official added that there are three Russian military aircraft, one Canadian, one Belgium, two of Spanish Air Force, one Dutch and one aircraft from the Netherlands government at the IGI Airport.  Besides facilitating the international teams, various Indian agencies have set up counters to help people coming from Nepal. The Indian Railways has opened reservation counters at the airport itself to provide immediate rail tickets to people landing in Delhi from quake-hit Nepal to help them undertake their journey to home in a smooth manner.
Many teams of Indian volunteers have also  reached and opened  langars to feed about 20,000 people in Nepal every day. Though there should not be any comparison at all when it comes to helping people, the following news makes an irritating and sad reading. 
After experiencing major devastation and loss of life in the April 25 earthquake,

Nepal was left with an unsavoury taste in its mouth after receiving packets of 'beef masala' as part of the relief package from Pakistan

.  Since the majority-Hindu country treats cows as sacred and there is a blanket ban on slaughtering the animal, the development has the potential to trigger diplomatic acrimony between the South Asian Association for Regional Cooperation (Saarc) member countries.  Indian doctors at Kathmandu's Bir Hospital told Mail Today that packets of 'beef masala' were sent by Pakistan on Tuesday as part of relief aid to the temblor survivors.  "

When we reached the airport to collect the food items from Pakistan, we found packets of ready-to-eat meals, including packets of 'beef masala'.

There were other food items too," Dr Balwinder Singh told Mail Today.  Perplexed, the doctors chose to have food from a hotel instead.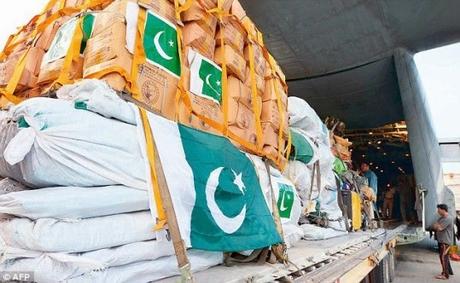 "We did not touch the Pakistani aid," Dr Singh said. "Most of the local people are not aware of the contents. When they understand, they avoid it," said another doctor on the condition of anonymity. He added: "Pakistan has hurt Nepal's religious sentiments by supplying the masala. Shockingly, it did not care about the sensitivity of the matter."

Exclusive photographs of the 'beef masala' packets supplied to Nepal are with Mail Today. These pictures clearly show that the place of origin of these packets was Nowshera Cantt in Pakistan. These packets also prominently mention that these are not for sale and the contents include 'potato bhujia' and 'beef masala'.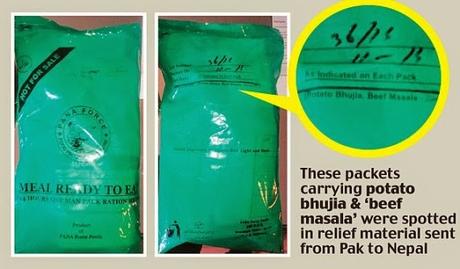 A top Nepal government official said: "The matter has been conveyed to Prime Minister Sushil Koirala and the intelligence chief. We are also starting an internal inquiry to verify the facts. If the report is correct, we will raise the matter at the diplomatic level with Pakistan. India, being our key partner, will also be informed of the developments."  Tasneem Aslam, spokesperson for Pakistan's ministry of foreign affairs, told Mail Today: "I am not aware of the issue…I am not responsible for the dispatch. The relief aid is sent by the National Disaster Management Authority."
Despite repeated attempts, the officials of the Pakistan NDMA could not be contacted. The food items have been manufactured by PANA Force Foods. The consignment was supplied after receiving orders from Pakistan's NDMA. "PANA Force food processing centre aims at providing quality goods at affordable prices. Currently, the company is supplying two brands of products to Pakistan Army commonly known as Meal Ready to Eat (MRE) and Emergency Pack Ration (EP Ration or high-energy biscuits) whereas a plant for the production of dehydrated vegetables and fruits is under construction," the official website of PANA Force Foods mentions.  The website also states that the processing centre provides food to civil population during natural calamities, like earthquakes and floods.
The first Civil Code of Nepal, the Muluki Ain of 1854, stated: "This kingdom is the only kingdom in the world where cows, women, and Brahmins may not be killed."  It trumpeted Nepal as the 'purest Hindu kingdom' and simultaneously signalled to Nepalese citizens that Hindu religious creeds would be the law of the land. But an amendment in 1990 to the Civil Code made cow slaughter punishable by 12 years in prison.
In another such nauseating news going in circles in the web according to various sources, more  than 100,000 paperback editions of Gideon Bibles have arrived in Nepal to provide relief for the millions of Nepalese desperate for help following the devastating 7.8 magnitude earthquake that has struck the country. But the jet loaded with skids of boxed Bibles is being called misguided and "dumber-than-dumb-ass" by rescue groups and world governments alike. "Well, isn't that just a plane-load full of stupid?" said a shocked and annoyed Nepal Prime Minister Sushil Koirala. It is not a surprise to see the evangelical vultures are playing with the life of the people in distress. This is what they do everywhere when people are suffering.
With regards – S. Sampathkumar
1st May 2015.