David Tucker gets ahead of the Games… he gets a hat.
It'd be like wearing a cello on your head.
Or a fully grown male Orangutan.
That's how wide Nelson's "new" hat is. About 1.4 metres to put a figure on it.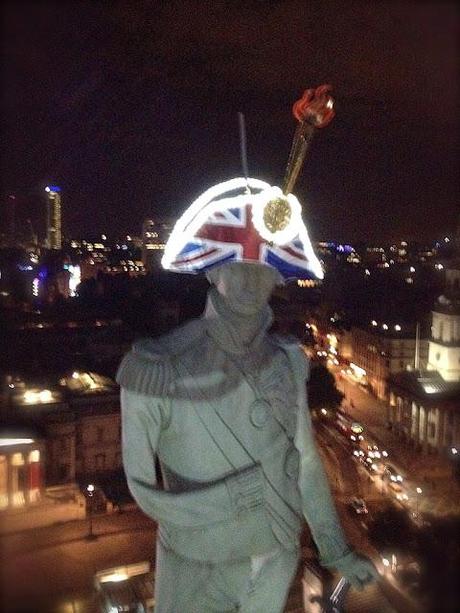 And here's the back story. (It's just so British, so London, this. So British, so London in its marriage of time-honoured tradition, quirkiness, and bang-up-to-dateness.)
Tradition because James Lock and Co. made hats for Nelson over two centuries ago. "He just walked in off the street one day in 1805." The Admiral's just one of the larger-than-life parade of Lock customers that's included the Duke of Wellington, Winston Churchill, Oscar Wilde, Charlie Chaplin, Beau Brummel, Lord Lucan, etc.
Not to put too fine a point on it, Lock and Co. are the hatters. Which, I suppose, is what you'd expect of the world's 34th oldest family-owned firm. It's MBA 101 - Do What You Do Better Than Anyone Else. And Keep on Doing It Best. Forever. Or since 1676 in Lock and Co.'s case.
So, in 1805. And again in 2012. What's a couple of hundred years between an Admiral and his trusted hatter?
The designer - hats off to her - was Sylvia Fletcher. She knows the ropes (I think we can can, er, turn a blind eye to that old nautical cliche just this once.) She's designed for Lock and Co. for 20 years.
That said, it's the only hat she's ever designed that had to be tested in a wind tunnel. For the record, it's also flame retardent. So no worries about lightening turning the brand new bicorn into a Goblet of Fire. Or a St. Elmo's Fire attack, for that matter.
Ok, now for the record, Sylvia Fletcher designed the hat, but it was made by the south London theatrical prop makers, Michael Breakey and Co.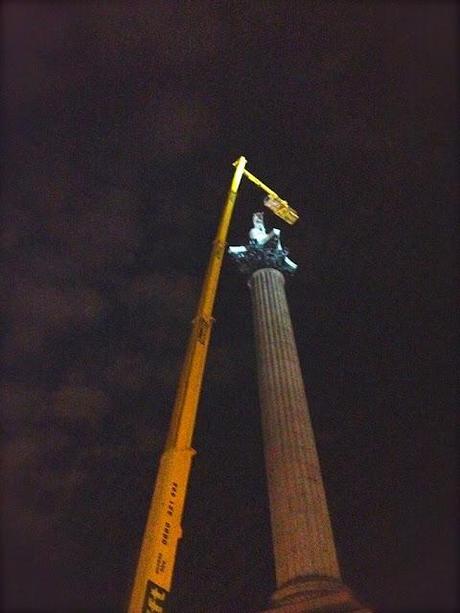 And how did they do it? Eezy peezy. Made a laser copy of the top of the statue and got stuck in. And stuck it up there at midnight on Sunday. Under the watchful eye of a senior member of Lock and Co. Which, if you think about it, probably wasn't what she signed up for - dangling from a crane 52 metres up in the air fitting a hat the size of a prone adult male Orangutan to the Admiral.
Anything else? Yup. Lock and Co. have asked me to set the record straight about a popular misconception. Nelson's hats were fitted out with an eye shade (he ordered an extra one - five shillings it cost him), not an eye patch. He was partially sighted in the so-called "blind eye" and direct sun on it was painful. Ergo the shade.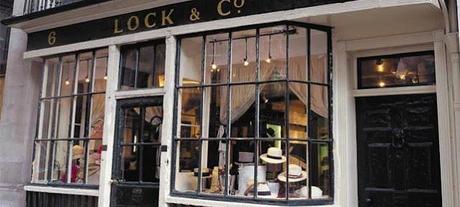 Also for the record, the 1805 hat - it was made out of felt and cost a not inconsiderable two guineas - now tops up his effigy in Westminster Abbey. But Lock have the original order. And a replica. Fascinatingly - what an archive this is - they also have more than a few of the cardboard "head shapes" they worked from (though not, alas, Nelson's). Love the sequence: take the measurements, make the cardboard head shape, put the "conformateur" to work.
Eat your heart out Madame Tussauds, the real deal is down on lower St. James' Street.
And, yes, London Walks goes there. Twice a week. On our Old Palace Quarter walk. 

DURING THE OLYMPICS AND PARALYMPICS THE LONDON WALKS SCHEDULE WILL RUN WITH A NUMBER OF CHANGES TO THE REGULAR PROGRAMME. CLICK HERE FOR OUR SPECIAL OLYMPICS LONDON WALKS CALENDAR.
OUR REGULAR BLOG FEATURES HERE AT THE D.C WILL RETURN AFTER THE OLYMPICS.