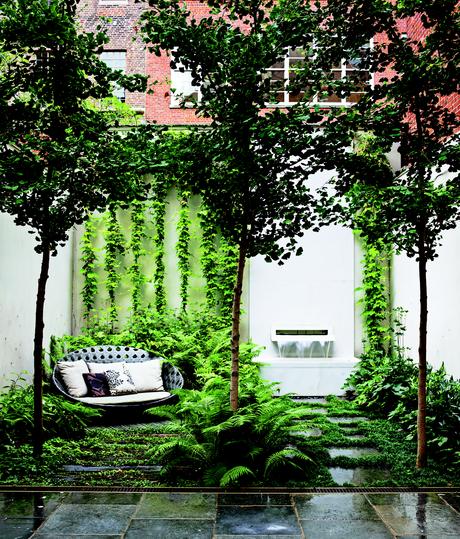 B&B Italia Outdoor's Canasta sofa, by Patricia Urquiola, shares a shady patch in the ground-floor Carnegie Hill garden with three ginkgo biloba trees, an existing fountain with an Italian marble spout designed by Thomas Woltz, and bluestone pavers. The terrace is filled with woodland greenery: Leucothoe, ostrich ferns, and lady ferns. Project  Carnegie Hill House Garden Landscape Designer 
Nelson Byrd Woltz
Delving into the ecological habitats of New York City while weaving together urban and green spaces, Nelson Byrd Woltz Landscape Architects has created a thoughtful garden space spread over six floors of an 1899 Carnegie Hill town house. We asked Elizabeth Meyer—a leading landscape architecture academic who contributed to Princeton Architectural Press's released Nelson Byrd Woltz: Garden, Park, Community, Farm—to pose a few questions to lead architect and firm partner Thomas Woltz.
Elizabeth Meyer: How is this project, despite its small scale, representative of your attitude toward design, both public and private? 
Thomas Woltz: Our process looks back over time, through layers of history. We had great clients who described to us how they live, how they want to live, their family structure, and their values. And they wanted a place rich in narrative to raise their children. So we looked at the physical context of Carnegie Hill—its proximity to Central Park and its natural habitat.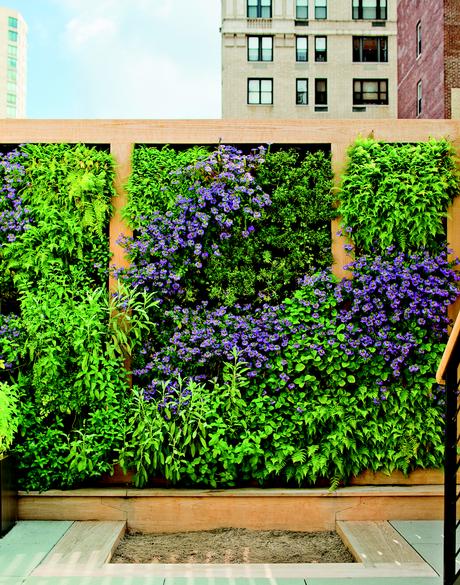 The perennial plants on the green wall were plotted out as a piece of verdant abstract art. Edibles, like strawberry, thyme, and rosemary, are planted within children's reach.
EM: Can you speak to the analogy [you gave me] that doing an urban garden is like building a bird's nest?
TW: One of the first calls I made was to the head of ornithology at the University of Maryland to ask what birds would need resident ecology [in the garden]. It's similar to that of Central Park, which is 843 acres, three blocks away; this [relatively] tiny 1,280-square-foot garden could tie into that ecology. So the idea of a nest and nurturing feeling hit home.
EM: In this case, how did you make the concept into something physical?
TW: The nest idea informed the woven detailing of the planters, for one. The plant community offering protection and a habitat for birds is not unlike this garden providing the same for children. On the top-floor terrace, which we call the "sky meadow," you just see the tops of buildings and water towers when you sit down—a birdlike experience.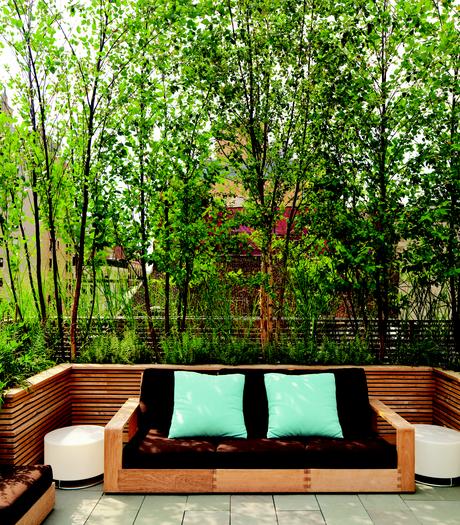 A sofa from Sutherland's Poolside collection is covered in fabric from Perennials; the illuminated side tables are by Porcuatro for Tango Lighting. The screens are constructed from FSC-certified teak.
EM: The surprising thing is the contrasts of scale at play—making something very intimate where you are most exposed. It's a real lesson for anyone who has a small garden. Do you have any advice for making an enclosed outdoor space feel larger?
TW: We pulled off a game of perspective by planting three trees close to the back of the rear wall, which is glass. You look through them as if they were a screen. It's a potent illusion.
EM: It's a great design tactic—a new layer that makes something feel bigger, which is sort of counterintuitive. Tell me about the complex choreography.
TW: That is a central theme in our work, the depth of our collaboration. There's a village of people—from horticulturists to carpenters to ornithologists—thinking hard, being clever, and working hard to make this space. It's made richer by the hands of many.
EM: Why does living outdoors matter, particularly in cities?
TW: I think it's a biophysical need. Our bodies crave and need contact with nature. But what we also do at NBW is try to rebuild healthy ecologies that have been disrupted.
EM: Is there anything else you wanted to add about your design process at Nelson Byrd Woltz?
TW: We often begin with science and research, and it's such an important part of our practice to understand the biological dynamics of a site and its region. I would love to encourage other landscape architects to embrace science as part of their design practice.
Log in or register to post comments