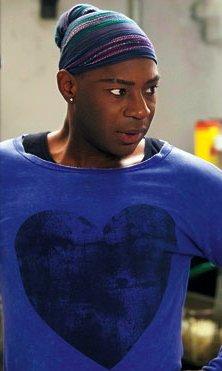 True Blood's Nelsan Ellis tells THR about what's upcoming for his character of Lafayette, his Beyonce inspiration and why series creator Alan Ball nearly didn't cast him.
Read a part of his interview below:
What's your favorite thing about playing this character?
I based the character off of my mother. My mother was a tomboy, and Alan Ball wanted this character to be feminine and masculine. Every time I play this character — because my mother died — I have a piece of my mama, I have a piece of her memories and who she was. She died in the third season, and my favorite part of Lafayette is every time I play him, I'm doing my mother.
And what's most difficult?
Keeping him fresh. I can get bored with myself, I've been playing this character for a while. I can sit on just all the things that he does, rather than live in the moment. I was like, "I need to find something fresh because I'm just sitting on what Lafayette used to do," and of course humanity doesn't do that. It's unpredictable. I've been looking at a lot of RuPaul to find out new language to keep him fresh. [RuPaul] goes, "You better don't," which I put in — "She better didn't." All the language RuPaul has, I've taken inspiration from for Lafayette this season.
So you have freedom to improvise?
Yes. I'm very lucky, they've been giving me free range to change things up a bit.
What gets you in character?
I listen to Beyonce, "Partition please," and then I'm sitting there and I'm getting all feminine. Rihanna used to be the one, but then this season, [Beyonce's] album is so sexual and feminine and marvelous. It gets me to that place. They put the make-up and the eyelashes on and I listen to "Partition," and I'm doing the switch and the hand movements, and I turn into my mama, and I turn into Lafayette.
Most of your scenes this season have been with Nathan Parsons. What's working with him like?
With Nathan I was like, "I'm so damn lucky. I get love interests where we have great chemistry." Dude is phenomenal. It's so funny because both my love interests are greedy people, in that both of them had two jobs at the same time. Kevin was a series regular on [Southland] and here, and Nathan is a series regular on The Originals and also here. I'm like, 'Y'all are greedy-ass dudes!" but it justifies how brilliant they are. I love every second working with him. He's a cool-ass dude and a phenomenal actor.
How is Lafayette's relationship with James different from that with Jesus?
I think the relationship with Kevin's character was deeper, but I think the relationship with Nathan's character is more stable. I think it's lasting. He's in it for the long run, and you know there's a lot of different things that will play into him being a vampire and living for how many years. But I think [with] this relationship, Lafayette is thinking, "I need to settle down, I'm done." Lafayette used to be a prostitute, and I think he's just like, "We love each other, let's just do it." I think that they made a decision, and Bucky [showrunner Brian Buckner] was like, "We're going to give him a happy ending"— no pun intended.
You're one of the most complex gay characters on television. Do you get recognition from the LGBT community for the performance?
One of the things that Alan Ball wanted me to do, and ensured that the actor who played him was doing, was make him a human being, and human beings are complex. He did not want a caricature, he did not want a stereotype — he wanted a person, and to be honest, he didn't even want me after the third audition because he thought I brought in a caricature. It was the casting director that was like, "Please," and when I went to my acting coach, she was the one who said, "You need to find something in yourself, because you need to bring a person in," and I found Lafayette in my mother. I'd been watching that woman all my life and I was like, "I'm just going to be like her. She's masculine and feminine, strong and weak." I would do a disservice to the community if I brought in a caricature. I would actually be making fun of him.
Is there a best Lafayette season?
This is the best season for Lafayette. This season I'm present and I'm living in the moment, I think it really is what my goal was. This is my best season.
 
Read the rest of this interview by going to: hollywoodreporter.com