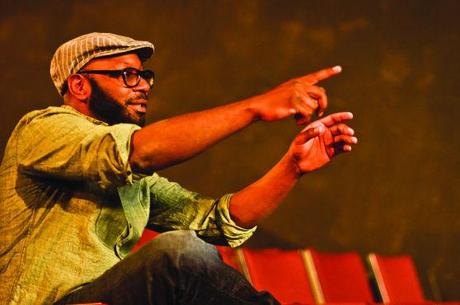 Nelsan Ellis has returned to his roots during True Blood's hiatus. Originally from Harvey, Ill., and an alumnus of a high school in Dolton, he has now returned to begin a new project. Gathering a group of local friends together to form The Collective Theatre, the company has now created its first production, HooDoo Love, which Nelsan directs.
After watching an early rehearsal, Jerry Nunn, of the Windy City Times sat down to talk to the Nelsan and learn all about this new production.  Below is part of that interview:
Windy City Times: Hi, Nelsan. Thanks for allowing me to watch you rehearse. What have you directed before this production?
Nelsan Ellis: I directed a play called Ugly that I wrote. My sister was murdered and as a way to sublimate, I wrote that play and directed it. I have directed a few short films but this is only my second time directing.
WCT: How did The Collective Theatre Company come together?
Nelsan Ellis: We all went to high school together and were thespians. We were the theater kids. We all were in plays together and have been friends ever since. Two years ago we went out to dinner and found ourselves in Chicago and just started a theater company. Now it is being realized.
WCT: This is your first production so the pressure is on!
Nelsan Ellis: [Laughs] I am directing our inaugural play so, of course, I am a maniac. I'm trying to get it right.
WCT: Did you want to be an actor in the show?
Nelsan Ellis: I couldn't be in the show because I didn't know what my schedule would be. I wanted to direct it once we pared down three directors. Being our first production I thought one of us should direct it. I put my name in a bag and was picked.
WCT: It looks like you are doing a great job. I saw improvements after your suggestions just now.
Nelsan Ellis: I try. I am an actor, too, so it is natural for me to talk the same language.
WCT: You attended Julliard, so you must have picked up some tips there.
Nelsan Ellis: I learned a whole lot. We had classes with directors. All of our teachers were directors, so Julliard might as well be a theater education in directing. The acting teachers spoke from a standpoint of directors. We would spend all day on script analysis and bringing out what is really going on in the moment. As an actor, I follow my passion; as a director, I figure out what I am doing, what I am saying, why I have those passions and where it is directed.
WCT: You are not one of those directors who likes to get up and act out the scene to show an example, right?
Nelsan Ellis: No. I don't agree with that method. Part of the beauty of being an actor is discovering all of that in yourself. I will get up and try to find the words to say it but I would never get up and act it out. That would be my point of view. My Ace would be completely different from other people's versions because we have different life experiences and takes on things.
WCT: The story takes place in Tennessee. Are you working on accents?
Nelsan Ellis: We aren't going to deal with accents. We are dealing with so many other things that are more important—like this bikini budget!
WCT: What is the overall show about?
Nelsan Ellis: In a nutshell, it is about trying to have what doesn't belong to you. Most of the characters in the play want to have something that is not meant for them. It is meant for somebody else. The big story is [that] Toulou has a relationship with Ace. Ace gave his heart to his dead wife, Abby. Toulou wants him to be in love with her and possess him. He just comes in, has sex with her and goes. She wants to be married and have him forever. She schemes to Candy Lady to put a spell on him. He finds the bag for the spell and everything falls apart.
There is also a sub-story with her brother, Jib, who had been molesting her. That story is to show the way she is because of trauma by men. She is just looking for love and has never had it.
Read the rest of this interview by going to: windycitymediagroup.com