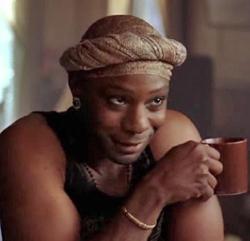 True Blood's Lafayette, played brilliantly by Nelsan Ellis started a relationship in Season 3 which continues into the upcoming Season 4 when he and Jesus pursue the mysteries of the witch culture.
Below are some hints by Michael Martin of Out Magazine hinting of what we can expect from Lafayette in Season 4.
Minor SPOILER ALERT!
Being the show's flashiest character, the hulking queer fry cook Lafayette, seemed at risk of getting lost in Season 3 until he got a boyfriend. For Nelsan Ellis, it was transformative.
At first, Ellis wasn't into the relationship thing. He'd established Lafayette as a former hooker, a porn hub proprietor, and a drug dealer who pushed vampire blood. "I had fun playing the prostitute and running the porn website!" says Ellis. "I thought if Lafayette got strapped down that all that fun stuff would go away." But he soon warmed to it. "I like [to portray] the love," he says. "It's rarely seen on TV: courtship, commitment, and faithfulness. In all the craziness of True Blood, you have these two dudes in a real relationship. Honest and real and straightforward — all that good stuff."
According to rumors, season 4 is set a year in the future, when Bon Temps, La., is beset by a pack of witches. Ellis says Alfre Woodard will not return as his schizophrenic, homophobic mother but that Lafayette and his nurse boyfriend, Jesus, are still together, "doing well" against the odds: In the last episode of season 3, Lafayette learned that Jesus was a witch. "It challenges the relationship," says Ellis. "Lafayette has been in many circles, but witches ain't one of them. He's street smart with vampires, but witches are a bit daunting, especially because he's sleeping with one."
The emergence of witchcraft on the show (joining werewolves, vampire kings, shapeshifters) will result in more warring factions, and hopefully more standout moments for Ellis. His favorite scene to date is one of the series' buzziest YouTube clips: When a trio of rednecks dubs one of the Lafayette's dishes an "AIDS burger," he menacingly licks a bun before rearranging the bigots' faces. "People mention it to me a lot," says Ellis. "Most of them were shocked to see a gay guy beat somebody up — shocked that he can wear makeup and be fashiony and feminine, and also take off his earrings and whip some ass. I like that dichotomy."