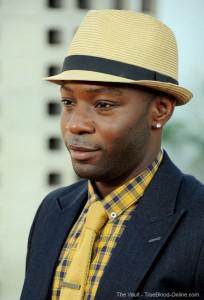 Nelsan Ellis will play the role of Dionysus in the new film "Gods Behaving Badly".
Sharon Stone, John Turturro and Christopher Walken have been cast as Greek gods living in a brownstone in modern-day New York.
The movie follows the classical deities as they cross paths with a young couple, Kate and Neil. "The intersection of the Gods and the mortals threatens not only the couple's budding relationship, but the future of everything else," a synopsis of the film said.
Kate will be played by Alicia Silverstone and Neil by Ebon Moss-Bachrach. Sharon Stone is to play Aphrodite, while Oliver Platt will play Apollo, Edie Falco will play Artemis, Phylicia Rashad will play Demeter, Nelsan Ellis will play Dionysus, John Turturro will play Hades, Rosie Perez will play Persephone and Christopher Walken will play Zeus.
Production is to begin this month in New York.
The film will be directed by Marc Turtletaub.