We love Lafayette and Nelsan Ellis has played him to perfection for the past five years on True Blood. Last night, Nelsan Ellis was a guest on Chelsea Lately and revealed his secret to playing such a realistically gay character as Lafayette.  Not much new in the interview with Chelsea, but it's nice to see him on the show.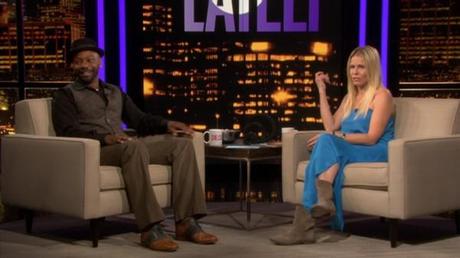 Chelsea: "How did you decide to play a gay character if you're a straight guy?"
Nelsan: "I just act like my mama…I've been watching her all my life. I've been watching her and imitating her. I can just do what she do [snaps fingers]."
Chelsea: "Your parents are conservative right, your father's like a Deacon?"
Nelsan: "My father's a super duper Deacon. He's one of those Deacon's who jumps and shouts 'Jesus!' So then he has a son on TV wearing lipstick going 'hooker' [snaps fingers again]."
Handler: "So what does he say about the show? He must have been horrified in the beginning."
Nelsan: "This type of material would never exist in my father's house, it never has. Now, he's watching the show. I mean he supports me now, in the beginning, not so much.
"It's just like that and Jesus don't exist in his world but uh now he called me yesterday and he said 'The first episode was good, son, it wasn't all weird like it always is.'"
Check out Nelsan's documentary celebrating LBGT poets, I Am Damn Wonderful, HERE.
[Random fact: Viola Davis is Nelsan Ellis's godmother. When he moved to California she took him under her wing, offering him food and a place to stay. He asked her and her husband Julius Tennon to become his godparents and now they are.]
source: thetwistgossip.com