We've already reported that Sam Trammell will attend the FANEXPO in Canada,but now Sam will share the stage with two other True Blood stars, Nelsan Ellis and Denis O'Hare.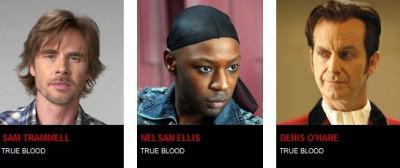 With the four-day convention nearly three months away, organziers are continuing to announce celebrites that will make an appearance and Fan Expo Canada and Rue Morgue's Festival of Feat are proud to announce that all three of the True Blood actors will be joining the festivites.
This trio joins at the already announced celebrity guests Stan Lee, Gillian Anderson, Kevin Smith, Jason Mewes, Patrick Stewart, The Walking Dead's Norman Reedus and Jon Bernthal, John Carpenter, Rose McGowan and many more.
Tickets start as low as $25 and can be purchased here.
Fan Expo Canada takes place from August 23-26 at the Metro Toronto Convention Centre.
 
source: starsentertainment.com