- By Ben L.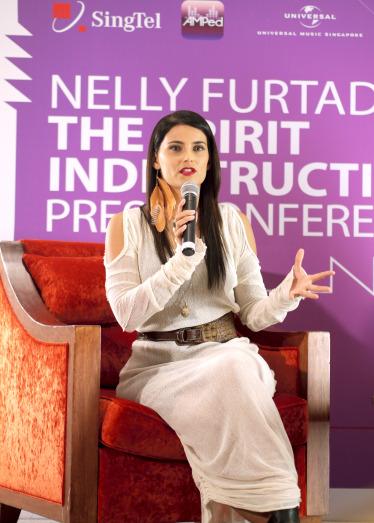 Nelly Furtado at her Singapore press conference on August 13.
This month, Nelly Furtado will be releasing her new album The Spirit Indestructible, which marks her return to the English music scene since Loose in 2006. It's been a long while since the Canadian singer-songwriter dazzled us with US number-one singles 'Maneater' and 'Say It Right', the latter even earning two Grammy nominations. But after a successful experiment with Spanish music in her 2009 album Mi Plan, Furtado feels refreshed and ready to deliver in English again.
She is excited about The Spirit Indestructible, sharing anecdotes about the album's message and the recording process. To her it is a super energetic album that will deliver a fantastic pop experience. But more importantly, the album is an avenue for her to channel her positivity to listeners. Last year, as ambassador of charity organisation Free The Children, Furtado travelled to Kenya to build a performance hall for an all-girls secondary school. During this trip the singer witnessed the locals being happy and celebrating together. This sense of communal joy cast a lasting impression on her and reinforced her belief in humanity, which is now translated to her new album.
As Furtado graces the stage of her press conference at the Hard Rock Hotel, it's hard to fathom that the youthful-looking and cheerful lady had launched her debut album in 2000 and is now the proud mother of an 8-year-old daughter. Over the past 12 years, Furtado has had a distinguished career with 55 music awards out of 111 nominations, including one Grammy from six nominations. She also now owns her own record label Nelstar, formed in 2009 with Canadian Independent label group Last Gang Labels, which she hopes would help aspiring musicians successfully enter the industry.
But more than a decade after the irresistible classic 'I'm Like A Bird', it seems Furtado has not lost any bit of her charm. She's funny, honest and motivated as ever to keep making music – even if her constant changing of musical styles may be confusing to fans.
 *
> Characteristics of the new album:
The album is incredibly positive and has a very high vibration. The last few years of my life have been really really positive and there's a spiritual energy through the album. It's a pop album but the spirit collecting here is rock , hip-hop, dance, reggae, world music all in one set, so it's a super pop experience.
> Message behind the album and its title track:
Spirit Indestructible is more like a mantra than a song, and I think my defining characteristic as a singer is that I'm a vocalist and all the sounds are just playgrounds for my voice. At the end of the day my voice is my instrument and this album carries a lot of positive energy and empowering strength. I make music so that my fans can apply it to whatever they are feeling. The first time I walked on to stage I was only four and immediately liked making the crowd happy and spreading good energy. That's why I love making music and this album is no exception. It's got a really positive message and I want people to feel good when they listen to it more than anything.
The lyric video for Spirit Indestructible with Spencer West shows that you can overcome obstacles and anything is possible. I wrote this album last year when many things were going on, from the Arab Spring to the financial crisis and natural disasters. There's a lot of change in the world, and I've met so many inspiring people, so I try to capture that energy of overcoming odds in the album.
> Her favourite song on the album: 
High Life is about the difference between looking at success as a destination and a journey. I've learned over the last few years that real success is about balancing your life. It's about making time for your family, friends and hobbies, as well as self-love and health. Success is more than some type of particle at the end of the rainbow or the finish line of a race. High Life has got a fun beat and there are kids singing in the chorus – it's a very poppy track with a deeper message.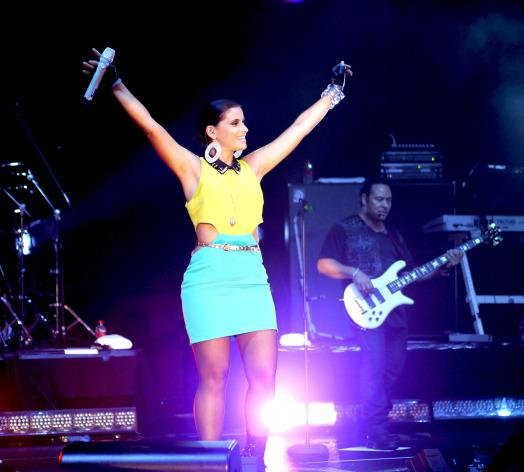 After a long wait which left the audience restless for more than 90 minutes, Nelly Furtado cooled off rising tensions by delivering a spectacular highly energetic performance at The Coliseum, Hard Rock Hotel.
> Thoughts on running her own record label:
One of the most creative and fulfilling things to happen to me is running my own record label – it allowed me to release my Spanish album and plan my own label. It was so great being the sole creative director and making all the final decisions, whether it's the music videos or organizing my own photo shoots. I'm already given a lot of creative control under Universal, but when you're an indie label it's a different kind of smaller-scale approach to things.
Nelstar's also about giving back to artists – I think artist development is really important. After being in this business myself for 10 years, it's nice to impart knowledge to other artists and help them. It's good to know what's on the other side of the fence, and knowing the actual process of producing an album is really rewarding.
> The image portrayed to her fans:
I think I'm really good at confusing my fans. Even when I put up a single, people still don't know what the rest of the album is going to be like. Unlike picking up your favourite brand of laundry detergent at the store and knowing it's going to work on your clothes because you've always bought it, people don't know what to expect from me. I don't really make a specific brand of music, and I think my brand is more like my vocals and energy – in essence my individualities. So I make music for everyone, but more importantly real people.
I always try to keep it real and be honest with myself because I feel if you let yourself fall and pick yourself up again, you will be able to make good music. And because this album contains the best 12 songs out of the 40 that I wrote, I feel like it's a guarantee to my fans that I stand behind them 100 percent.
> Motivation and interest in K-pop:
It's a little daunting out there because there's definitely a lot of music now. I think it's incredible because it's a constant flow of inspiration and you can find any kind music you want. Doing the Spanish album was good for me because it reminded me that there was a whole world of music outside North American pop and I felt like I never really identified completely with that genre of music. I always thought I was more of an international artist, so it's a good time for an artist like me now. 10 years ago, the music scene wasn't so open but now I feel like I fit in more than I did in 2000.
I watched this amazing K-pop music video called Gangnam Style and it just proved how the music industry has become so diverse now. I love K-pop and I've been fortunate enough to live in a city where you can easily find such music in stores. It's interesting because there's the cultural divide and we're so far away in Canada, while all our artists are making their careers here in Asia. Unfortunately the average K-pop artist is not that easy to phone up, like I want T.O.P to perform on Big Hoops. But there are plans to work with K-pop or J-pop artists in the pipeline – I do love what they're doing because it's really entertaining, creative and fun.