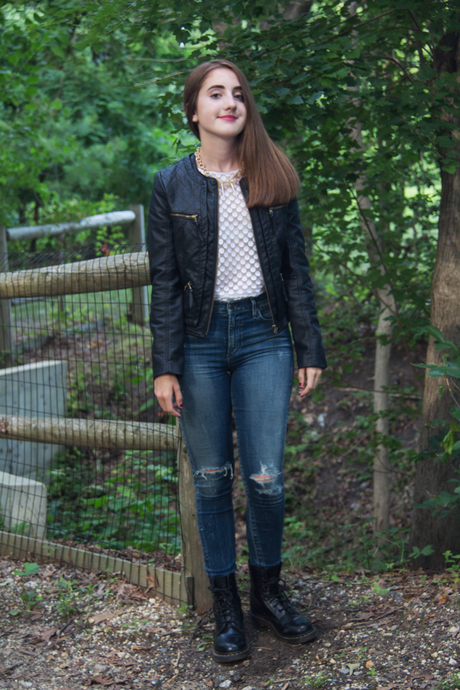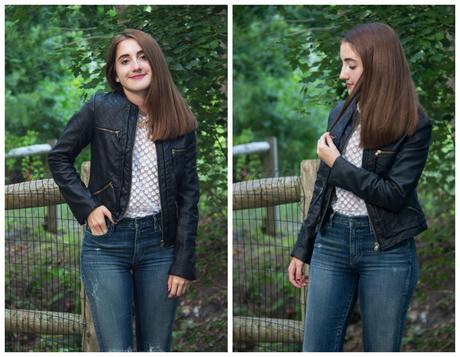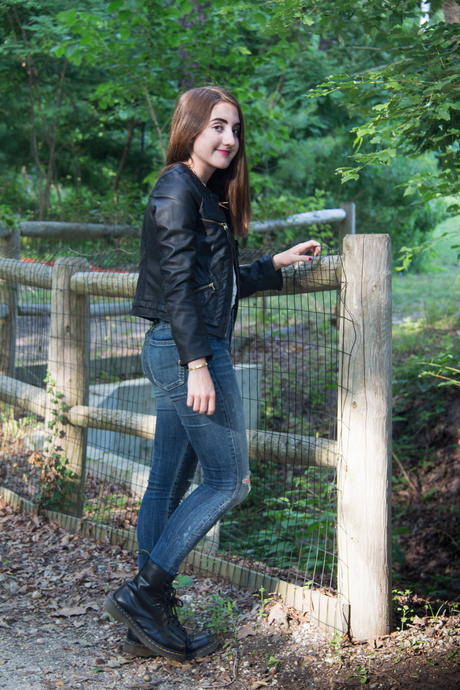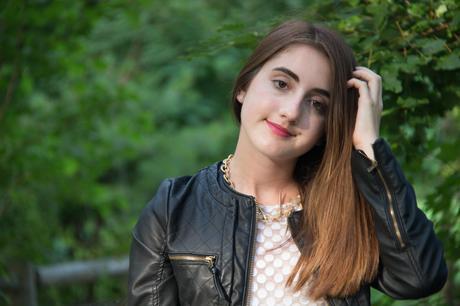 Wearing:// Top: Topshop (On sale!), Jeans: Citizens of Humanity, Jacket: AEO (Similar here), Necklace: Urban Outfitters (Similar here), Shoes: Doc Marten, Lips: 'Rebel' by MAC
I recently received a question on Tumblr inquiring about what I would wear to a The Neighbourhood concert. Naturally, it took me a solid 30 minutes because the only concerts I've ever been to include Justin Bieber, Hannah Montana, and One Direction (honestly, #southjerseyproblems is so applicable here). Anyway, after sorting through my entire closet, I finally answered, describing an outfit that looks just about like this one. Though, I did suggest a white pocket v-neck tee, but really any basic tee could suffice. While summer is typically very hot where I live, these past few bizarre storms have made shorts + torrential rain an uncomfortable combination, so day to night outfits like this are essential. Also, I just have to mention that these jeans are also a new fave of mine (in addition to my Madewell pair, I think I say this about everything though..), not only because of these fabric and distressing, but also the major sale they were on (only in store for these jeans though)! I was in NYC for the day recently, and hit up the Aritizia sale the second I arrived. Whether you live near an Artizia store or have to settle for online scrolling, I suggest you at least take a looksie. 
After the excitement of traveling and always being on the go, it feels nice to just be at home right now. I've been making some interesting smoothies via the Smoothies app, playing tennis to the point of back pain, and binge watching the new show Finding Carter on MTV (how awesome is it?!). So really, not much has been happening which I sorta kinda like. How have you guys been doing? If you ever wanna chat or have any questions, feel free to message me on Tumblr or email me! I love hearing from readers. 
❤
Have a splendid weekend!  xoxo
  {FACEBOOK}{TWITTER}{INSTAGRAM}{BLOGLOVIN'}{TUMBLR}
  {FACEBOOK}{TWITTER}{INSTAGRAM}{BLOGLOVIN'}{TUMBLR}