Spiced butter milk- from South India
During summer season demand for fresh,healthy cooler and drink are increased. Fresh fruit juices, milk and yogurt based drink are good to have instead of those readily available fizzy drinks which are loaded with artificial color and sugar.
Buttermilk is a perfect healthy cooler to beat the summer heat.There are many easy and quick drinks to make with yogurt.
Neer More is a very popular,healthy and a slightly spicy palate cleaner from southern India.In Tamil its known as Neer Mor/More and in Malayalam its called Sambharam
Its quite easy and quick to make,as only few ingredients are needed to make it.Curry leaves impart a fresh flavor and the tempering gives a nice taste so don't skip any step if you want the authentic taste of neer mor.
The thickness of neer mor depends on individual preference,in a cup of yogurt you can add 2 part,3 part or even 4 parts of water,taste great anyways. You can easily refrigerate the leftover drink or make a big jug and use through out the day.Serve chilled and stay cool through out the summer :)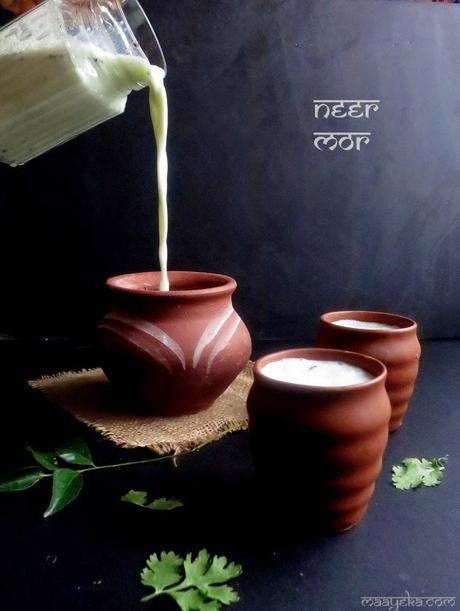 Prep time -10 min
Difficulty level - easy
Spice level - medium
Cuisine - Southern Indian
Type - drink,cooler
Serve -3
INGREDIENTS-
Yogurt /dahi - 1 cup
Water /paani - 2 cup
Green chili,chopped /hari mirch - 1
Ginger/adrak - 1/2 inch
Curry leaves /kadi patta - 10+4
Fresh coriander ,chopped /hara dhaniya - 1.5 tbsp
Salt /namak - 1 tsp
Asafoetida /hing- a pinch of
Cooking oil /tel - 3/4 tsp
Mustard seeds /rai- 1/2 tsp
Cumin seeds /jeera- 1/2 tsp
PROCEDURE-
Chop coriander,green chili ,ginger and curry leaves.
Add yogurt and chopped coriander,chili,ginger and curry leaves in the blender and grind to mix.
Now take out  the yogurt mix in a serving bowl.
Add 2 cups of cold water and salt and mix well.
Heat oil in a small pan,when it become warm add cumin and mustard seeds.
When seeds start crackling add curry leaves and asafoetida.
Add this tempering in the prepared butter milk.
Add few ice cubes if you wish.
Mix well and serve.
NOTE-
You can adjust the quantity of green chilies according to your taste.
Instead of coriander you can also add 4-5 leaves of mint.
Addition of curry leaves and the tempering is a must in this ,so don't skip both .