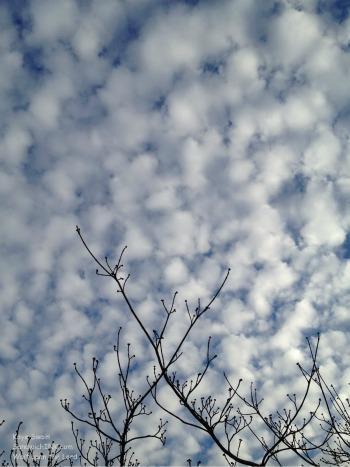 My grandkids and I have been busy with all kinds of science fun this month – from one grandchild's science fair projects to another's computer lessons that are part of his Christian home schooling program.
Much of it has been fun. Working with them as much as I do, I often learn new things myself – an excellent way to "exercise" my baby boomer brain cells.
Some of it has been a bit stressful. Much like dealing with my writing deadlines, our trying to juggle all the requirements of the science fair project itself, coupled with various family and work needs going on at the same time, definitely led to a bit of frustration for grandchild and grandparent in the midst of it all.
Needing to take a break, even if it was only for a few minutes, I walked down to the curb to check our mailbox. Turning back to the house, I looked up and saw all the billowy white clouds against the deep blue sky. It was so lovely and peaceful! As I continued to stand there and stare, I felt myself relaxing just a bit. A favorite Scripture came to my mind from Psalm 8:
O LORD, our Lord, How majestic is Your name in all the earth, Who have displayed Your splendor above the heavens!…When I consider Your heavens, the work of Your fingers, The moon and the stars, which You have ordained…O LORD, our Lord, How majestic is Your name in all the earth! Psalm 8:1,3,9 (NASB)
I only stayed out there a minute or two. But when I went back inside, God's Word and works had blessed my heart and eased my stress just a bit. I was able to rejoin the activities with a new bounce to my steps, a more positive perspective, and a sweet old lesson relearned – "they that wait upon the LORD shall renew their strength." Isaiah 40:31a (KJV).
How wonderful to know that lesson works for helping grandkids with tough homework assignments, as well as dealing with our more challenging writing projects.