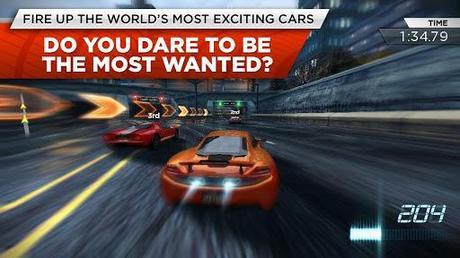 Last month EA released some trailers of NFSMW on Mobile which were based on to show off graphics work along with launch confirmations. But now, Yesterday EA launched its Need For Speed Most Wanted Game For Android and iOS users. Need For Speed Most Wanted is much awaited game on both platforms and is available with all features on both OSs.
Features of NFS Most Wanted include some awesome graphics for most Android devices and iOS as well, for a start. It includes 35 different cars that you can earn and drive along the way. Users can play game both via touch or via Accelerometer (tilt controls). Similarly like old games of EA this time also you need to earn points to unlock new cars, tracks, etc.
Android users can buy it for $6.99 from Google Play Store and iOS users need to pull out more money exactly $7.22 to download it. Currently initial download is of 12MB but we are sure it will download much more after initial install so get connected to WiFi and than download. Until your download completes enjoy trailer:
Must share your views about this new game from Electronic Arts. Currently i'm enjoying it a lot.