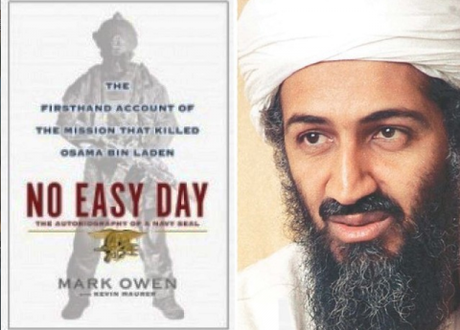 No Easy day by Mark Owen contradicts accounts of Osama bin Laden's death
The background
No Easy Day: The Autobiography of a Navy Seal, by Mark Owen (a pseudonym), is a firsthand account of the mission that killed Osama bin Laden in May 2011. Associated Press has got hold of a copy, and claims that his account of the death contradictions official accounts. Shortly after the book was revealed, Fox News announced that the author was Matt Bissonnette, 36, who retired shortly after the raid on bin Laden, reported The Mail.
Bisonnette claims bin Laden was shot the moment he looked out of his bedroom; the Us official line is that he was killed only when he went back into his bedroom, suggesting that he might have been looking for a weapon. The book wasn't submitted to the Pentagon, and is currently being scrutinised. Criminal charges could result if the book is judged to have released secret material. The White House has yet to comment: jihadists on al Qaeda websites have posted pictures apparently of the author and called for his death.  The pubilshers, Dutton in America (an imprint of Penguin) are printing 300,000 copies, and releasing it on the 4th September, a week earlier than expected.
What the author says
According to AP, that he was behind a "point man" who was going up stairs; that he heard gunfire when he was five steps away from the top; that when they found bin Laden in his bedroom, he was already shot. Seals then shot him again until he was motionless. Associated Press also say that the author claims that a Seal sat on bin Laden's chest in the helicopter ride that took his body out to sea – apparently contradiction US accounts that say his body was treated with dignity. This, said The Mail, is often common practice, as troops have to sit on their own dead. Bissonnette also claims that troops did not approve of Barack Obama; but that they admired his decision to go ahead with the raid.
 Why it's a problem
It raises the question, reported The Mail, as to whether the Seals were on a mission to capture or kill bin Laden. Bissonette says that before the raid, a lawyer told them "they were not on an assassination mission,' and that if bin Laden were "naked with his hands up," then he shouldn't be killed; if he didn't pose a threat, he should be detained.
Intimate details
This book, said iPolitics, shows a "more bloody war waged by special operations" soldiers. Its "most memorable moments are also the most human" – a Seal dressing a woman's wounds; a terrified mother clutching her child; a young girl identifying Osama bin Laden. The raid now "seems destined to become an anachronism," as now top level terrorists are killed in drone attacks – 80 such have been assassinated in Pakistan and Yemen.
In defence of the attack
Retired Major General Charlie Dunlap said that the Seals made the right decision to shoot. "In a confined space like that where it is clear that there are hostiles, the SEALs need to take reasonable steps to ensure their safety and accomplish the mission," quoted on iPolitics.