We all need to be naughty sometimes, and this "Naughty Girl Cabbage Salad'" will earn you naughty awards because you're gonna eat it all!
Naughty Girl Cabbage Salad
Crunchy and packed with unique flavors, this dressing whisk into the most beautiful creamy off white sauce. You can eat it to be the spoonsful. It would be lovely on fresh fruit or a bowl of arugula, watercress, or accompanying some spicy grilled shrimp, tail on and daintily dipped into the sauce! Yes, this is the naughty and nice girls' salad that is perfect for a PJ party, girls' night, or no reason at all~enjoy! xoxo ~peace & cabbage.
How to make Cabbage Salad?
Cabbage is a delicious vegetable: it contains all the vitamins a person needs. A very healthy and tasty salad with a spicy dressing will appeal to those on a diet, and not only. Cabbage gives volume and saturation, and pepper adds sweetness.
And, here's yet another Asian cabbage slaw and napa beef wraps that you're gonna love! xoxo ~ally
Napa Cabbage Salad
Are you looking for the perfect picnic salad to bring to a potluck? Look no more! This napa cabbage is also called Chinese cabbage. This napa cabbage salad has been a favorite of my friends and neighbors for years. It's one of the most requested potluck salads I've ever made. Believe me. This is the prettiest cabbage in the bunch.
This salad is prepared very simply; it turns out to be light and low-fat. It will perfectly complement the festive table and diversify the daily menu.
Delicious Cabbage Salad
Cabbage is famous not only for its high content of vitamin C. This vegetable is also known for its good ability to preserve for a very long time. These two facts are the ingredients for the success of fresh cabbage salads. One of the essential points will be what kind of coleslaw dressing is used during its preparation. Depending on the composition, such a dressing gives a familiar dish a slightly different flavor.
More cabbage as in cabbage rolls! You'll love this recipe of mine! It's how my Croatian Mom used to make cabbage rolls!
Asian Cabbage Salad
It is very convenient to take with you to a barbecue because cabbage cooked in this way will not give juice, and there will not be an unpleasant puddle. A truly versatile dish!
Here are my favorite recipes that you should try, such as mandarin, blueberry Chinese cabbage salad, and eastern European chicken cabbage soup! I promise yummy flavors! xoxo ~ally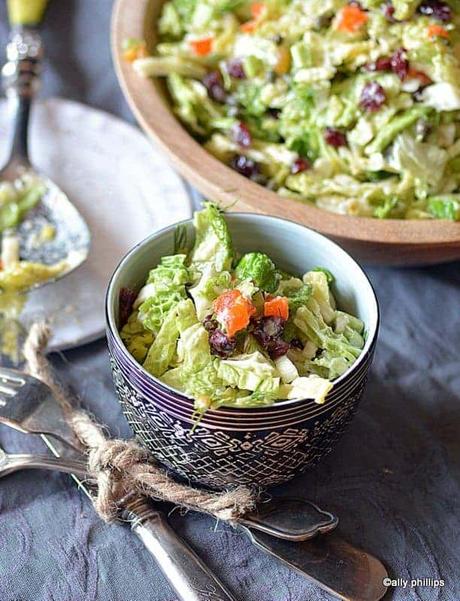 8 cups savoy cabbage, loosely packed and shredded
1 cup cucumbers, diced (skin on-use English cucumber)
1 cup fennel & fronds, sliced thinly
1/3 cup green onions, with tops, sliced thinly
1 cup dried cranberries
½ cup dried mangoes, diced
1 cup parmesan reggiano, freshly grated
¼ cup capers, drained
DRESSING:
1 tsp. sea salt
1 tsp. coarse ground pepper
½ cup Greek yogurt, plain
¼ cup fresh ginger, grated
2 Tbl. Garlic, minced
1/3 cup apricot fruit jam
¼ cup extra virgin olive oil
2 tsp. serrano pepper, minced
2 lemons, juice