Over the past few years the Primate and Predator Project has been very busy researching species and gaining a huge amount of data on wildlife. We feel that it is important to continually engage local people with nature and our research in order to reduce misconceptions and lack of information about animals which may lead to human-wildlife conflict. Disseminating data is also an important tool for increasing appreciation and awareness of these animals.
We have been trying to achieve this through visits to landowners, newspaper articles, social media and sharing our annual report.
Last night we joined up with researchers and conservationists from other nearby organisations to host an evening of talks about wildlife for the local public.
The event was held at Schoemansdal Environmental Education Centre. Thanks to the Centre and to David Pretorius for enabling us to host the evening there.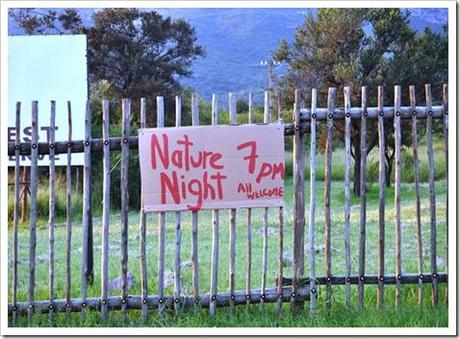 The programme for the evening: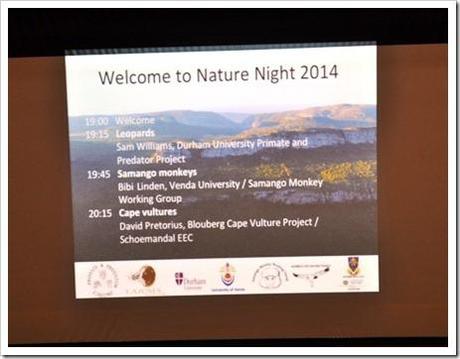 Our first speaker, Sam Williams, presented and answered questions on leopard populations in the Soutpansberg Mountains. Sam is the Research Coordinator for the Primate and Predator Project.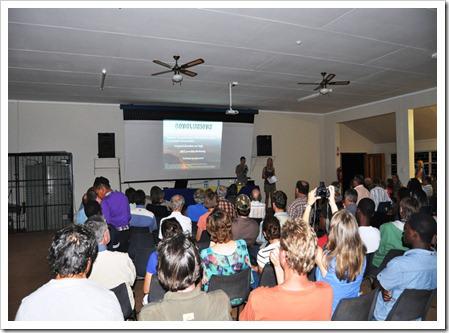 The second speaker was Bibi Linden, a PhD student and part time lecturer at the University of Venda. She is also a co-founder and member of the Samango Monkey Working Group and a member of the Conservation Committee of the Vhembe Biosphere Reserve. She spoke about samango monkey distribution and conservation.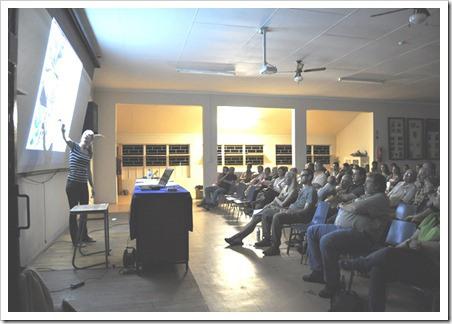 And our final speaker was David Pretorius who spoke about Cape vulture conservation. David works for the Limpopo Department of Education at Schoemansdal Environmental Education Centre. He founded the Birdlife Soutpansberg Bird Club and has been involved with the Blouberg Cape Vulture Project since 1996.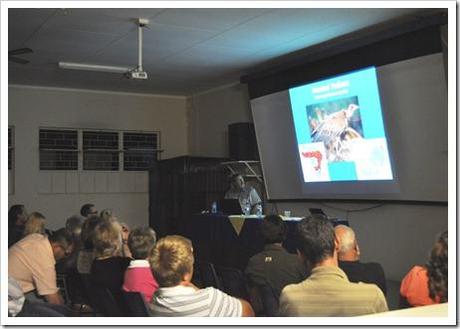 The event was very well attended. We had a full house with 82 people present. Some of the people in attendance ventured from as far as Musina, near the Zimbabwe border, and the Moyo Conservation Project, near Alldays. Several teachers and students from Mopane intermediate School, which is a WESSA Eco-school, were present as well. We were also extremely pleased to welcome a reporter from the Limpopo Mirror newspaper who will be publishing a story on the event soon.
The audience really enjoyed the event and asked a number of interesting questions. The event was also a nice opportunity for members of the audience to meet neighbours and network with the researchers. 
The Primate and Predator project provided snacks and drinks which where most definitely enjoyed as people chatted to each other after the talks.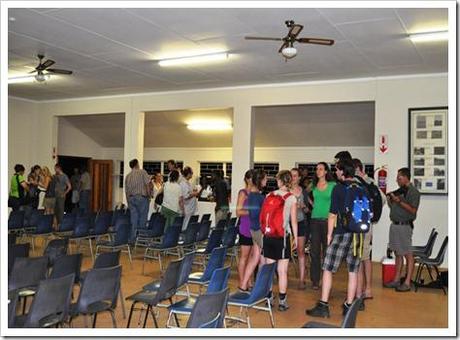 Thanks to everyone who was involved for making this event such a success!