It is important to have a regular and safe period for a healthy life. Hence, make sure to never neglect your menstrual health and hygiene.
A normal menstrual cycle ranges from 21-35 days.
However, you might experience slight delays or irregular menses at some point in your life which is considered normal and you don't need to worry.
But if the periods are delayed for a long time or your period is significantly irregular then it is due to hormonal imbalances and you should consult your doctor.
Many causes are responsible for irregular menses:
1. PCOS – Polycystic Ovarian Syndrome– An extremely common issue and a major cause of concern during the childbearing age which can lead to infertility.

2. Thyroid disorders

3. Stress

4. Contraceptive pills

5. Breastfeeding

6. Menopause

7. Improper diet

8. Sedentary lifestyle

9. Anaemia
Meet your Gynecologist to discuss your symptoms. Accordingly, they will start you on medications. You should also talk to your doctor if you have a painful period (Dysmenorrhoea) or heavy period (Menorrhagia)
Natural solutions for Irregular menses
Apart from consulting your Gynaecologist, you can start with natural home remedies for delayed periods to treat your irregular menses which anyways your doctor will recommend too.
1) Practise Yoga & Meditation
When you are looking for homes remedies for delayed periods and PCOD, yoga can be of big help. According to some studies, yoga has been found beneficial in menstrual irregularities/ irregular menses.
You can also do meditation as it helps to relieve stress and anxiety. Even though we may not take stress much, in our subconscious mind, it stays. Hence meditation will help a lot.
Make yoga and meditation a part of your life.
2) Healthy diet to maintain a healthy weight
Being underweight and overweight can affect your menstrual cycle and hormones. To maintain a healthy weight, you need to follow a healthy diet which includes:
Green veg

Fruits- Papaya, carrot

Herbs- turmeric, asafoetida, cinnamon, cumin

Seeds- Pumpkin, coriander, flaxseed
3) Regular exercise
We all know the importance of regular exercise in daily life for good health. It has many health benefits and prevents many problems including irregular menses.
Performing 30 minutes of aerobic exercises like brisk walking, running, swimming, Zumba dance, etc. at least thrice a week leads to a healthy lifestyle.
4) Go for Ayurveda with Namyaa Period Care Kit
Ayurveda is India's traditional wisdom based on the principles of Stree Roga Chiktsa- Vata, Kapha, and Pitta. It helps to treat the ailments depending upon these three doshas.
Namyaa has newly launched Period Care Wellness Kit, which consists of herbal medicines and is part of the Ayurvedic principles.
The kit consists of 3 essential products:
1. Namyaa Aarthava Kshaya- For PCOD and PCOS
Say bye-bye to PCOD/PCOS naturally with Namyaa Aarthava Kshaya. This tablet has been formulated with rare and certified Ayurvedic herbs, extracts, and oils. It is completely safe and free from any chemicals.
The key ingredients are Aloe vera, neem, kultha, Sahastravedi, Pippali, and Kanchnar.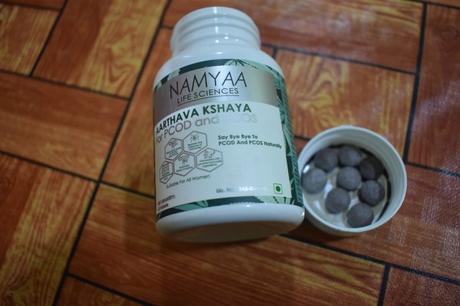 The tablet works on doshas and can restore hormonal balance and helps in improving fertility. PCOD is mainly caused due to faulty metabolism and this tablet helps to improve the metabolism by eliminating the toxins.
This powerful Ayurvedic tablet promotes timely ovulation, which regulates delayed and irregular menses.
*MRP: 449 INR for a pack of 60 tablets.
2. Namyaa Anartava -For Delayed and Irregular Periods
This Ayurvedic syrup has been formulated with the goodness of ingredients like Aloe Vera, Pippali, Karanja, Krishna-Tila, Kultha.
It helps to restore the natural menstrual cycle by balancing Vata and Kapha doshas, which are responsible for menstrual imbalances and improve irregular menses.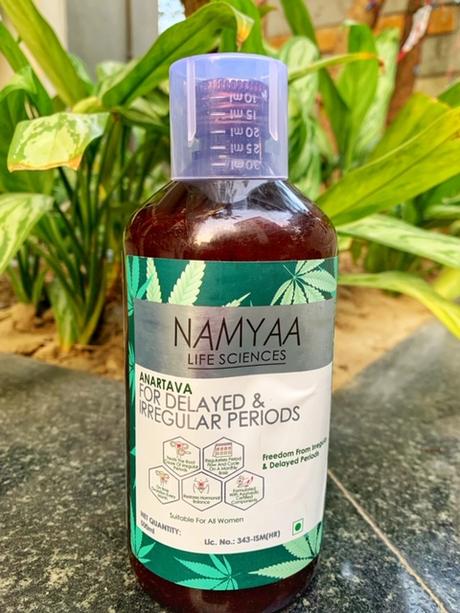 This syrup treats Anartava means Amenorrhea (absence of periods) in an Ayurvedic manner.
The added benefits of this syrup are it helps boost energy, immunity, and fertility.
*MRP: 499 INR for a bottle of 500ml.
3. Namyaa ShwetKanika -For White Discharge
White discharge or leucorrhoea is a common condition that occurs due to the reaction of the organism known for its cleaning and protective function.
While a slight white discharge is considered normal, but if it is heavy, prolonged, smelly, or itchy, then it indicates some underlying infection and should not be ignored.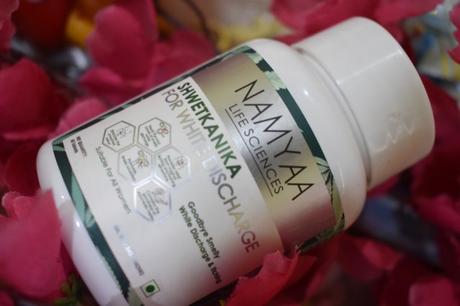 'Namyaa ShwetKanika -For White Discharge' helps treat internal inflammation and infection by balancing the doshas and also helps to restore the pH balance of the vagina.
It contains powerful herbs and extracts like Ashoka, Daruharidra, Guduchi, Jeereka, Lodhra.
*MRP: 449 INR for a pack of 60 tablets.
*Note: Kindly consult your Ayurvedic physician/ Gynaecologist before consumption of these tablets/ syrup.
If we follow a good lifestyle and diet, our menstrual health will be maintained. Hope you got to know about menstrual irregularities and their natural solutions. Don't forget to educate "Period Talk" with your maids and less privileged women.
Have a Happy Period!
---
---
---
---
Reference: 
https://www.thehealthsite.com/diseases-conditions/8-home-remedies-to-treat-irregular-menstrual-cycle-685371/
https://www.healthline.com/health/womens-health/irregular-periods-home-remedies#When-to-seek-help
*Disclaimer– Sponsored post. The content in this post is purely meant for educational purpose only and not meant to be a replacement for a doctor consultation, nor is it a medical recommendation or prescription of treatment.