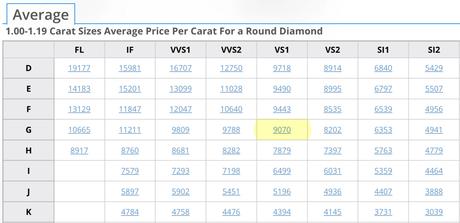 This September the average price per carat for a round diamond of 1 - 1.19 carat G color VS1 clarity is $9,070 compared to August 2022 which was an average price of $9,207 . The average price per carat for round diamonds has decreased by 1 .49% since last month.
The current average and lowest prices per carat are shown in PriceScope's diamond price charts by carat and their corresponding color and clarity.
We advise consumers to keep in mind that cut quality and vendor services such as upgrades and returns can make a significant difference in the price point when shopping for loose diamonds. PriceScope has been collecting retail diamond prices since 2007 of over 1,000,000 diamonds currently in the database. PriceScope diamond price chart page shows the full diamond price charts for rounds and other fancy shapes. We update the diamond prices on a monthly basis. Keep an eye out for October's diamond prices.
According to Martin Rapaport i nexpensive diamonds will be very sensitive to price increases. Noting that the cheapest goods might even show some improvement as buyers shift to the lower price points. He went on to say that you'll see the bigger diamonds, where people just don't care about the prices. If the prices increase, they're going to want to buy more of them in an inflationary environment. So we're looking at interesting market scenarios here. We're looking at changes. We're looking at a bifurcation or separation of markets.
Based on your knowledge of the state of the natural diamond market. What are your predictions for the rest of 2022? Let us know by clicking the comments button below.
Whether you're actively shopping for natural diamonds or just browsing - Check out the PriceScope Diamond Search.