We've seen the diamond industry recover over the past couple of months from the COVID-19 global pandemic, however, September left us on edge as we saw the average price of diamonds take a slight dip. Many were left concerned about what this meant for the rest of 2021. Eager to find out what the current state of diamond prices is? Here is the PriceScope diamond prices report for October 2021:
POPULAR DIAMOND SHAPES

Round diamonds continue to be the most popular shape of diamond on the market by rising up to 78.74%. Princess has not made Top 5 Popular Diamond Shapes for two months in a row despite traditionally being the second most popular shape of diamond. Oval continues to sit in second place. Cushion remains in third place. Pear is back on the Top 5 Popular Diamond Shapes since May this year.
DIAMOND PRICE CHARTS FOR ROUND DIAMONDS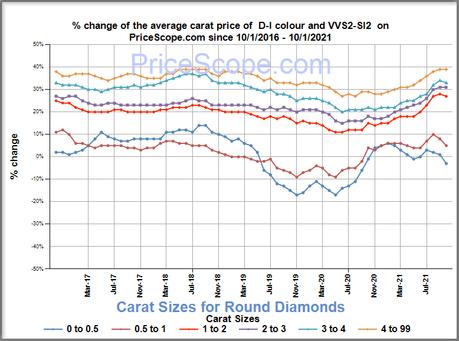 The table below gives you the rundown and details of the changes for the last three months (08/01/2021 - 10/01/2021).
This October the average price per carat for a round diamond of 1 - 1.4 carat G color VS1 clarity is $8,489 compared to September 2021 which was an average price of $8,368. The average price per carat for round diamonds slightly increased over the past month which could mean a positive change for the rest of 2021 as predicted.
The current average and lowest prices per carat are shown in PriceScope's diamond price charts by carat and their corresponding color and clarity.
We advise consumers to keep in mind that cut quality and vendor services such as upgrades and returns can make a significant difference in the price point when shopping for loose diamonds.
PriceScope has been collecting retail diamond prices since 2007 of over 500,000 diamonds. PriceScope diamond price chart page shows the full diamond price charts for rounds and other fancy shapes. We update the diamond prices on a monthly basis. Keep an eye out for November's diamond prices.
When we noticed a slight decrease in the average price of diamonds for Diamond Prices - September 2021 we mentioned that a decrease at this time of the year was only natural before we head into the holiday season. As predicted the average price of diamonds increased this month, giving us hope that we'll see a positive spike as we conclude 2021. Shopping early for the time of giving? - Check out the PriceScope Diamond Search .
By Andrey Pilipchak
Latest Publications on Diamond Prices October 2021
Rapaport:
Diamond Prices Soften in Slow September Trading
The diamond market was relatively quiet in September as various Jewish and Indian festivals disrupted activity. Dealers remained optimistic for the US holiday season after positive trading at the Las Vegas shows in late August. China's economic slowdown brought some caution into the market.
Rapaport Weekly Market Comment
Diamond market cautious after slow Sep. trading.
US Diamond Imports Continue to Rise
US polished-diamond imports saw yet another month of sharp growth, with shipments more than doubling year on year to $1.73 billion in July. The increase reflected higher volumes, which outweighed a steady average price, according to Rapaport calculations based on data from the US Department of Commerce.
Rough Prices Rise at Grib Antwerp Auction
Grib Diamonds noted solid market demand at its most recent rough sale in Antwerp, with overall prices increasing 5% to 7% compared to the previous auction.
IDEX:
IDEX Research for September: First Fall in Polished Prices since February
Month-on-month prices dipped by 0.2 per cent in September, the first drop since February. They peaked with a 2.2 per cent rise in June, but slowed during July and August.
IDEX Price Report: Rounds Fall, Fancies Flat
There was little movement overall. Rounds were down, fancies were mixed.