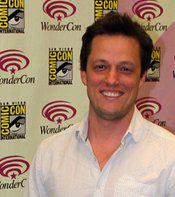 Below is a video of interview with "True Blood" composer Nathan Barr at WonderCon 2012 which took place in mid-March, 2012 in Anaheim, CA.
He talks about how he got the job to write True Blood's original music and how he pitched his ideas to Alan Ball and got the job.
He also discusses about how he wrote the Bill and Sookie theme right before they showed up to hear his pitch.
source: TVWatchtower on YouTube