I did a Nasi Lemak cake some months back but I wanted to try another Nasi Lemak Sambal and so my dear friend AK shared one.
Thanks AK for this nice recipe.  My guests did enjoy it.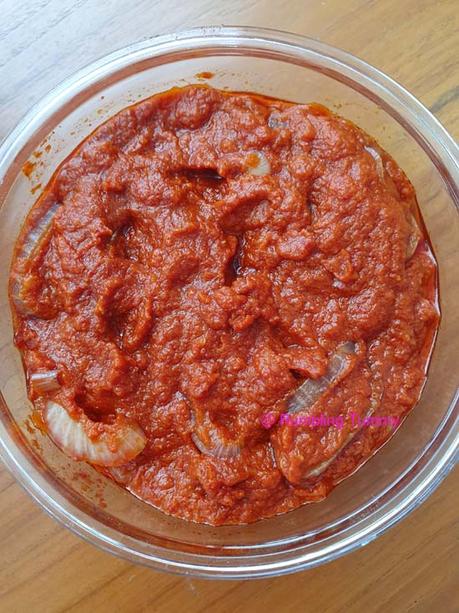 Learnings: Am happy how this turned out.  The spiciness is just right and so were the sweetness. 
Heard that my BIL was enjoying this alot too.
What you need:
15g dried chillies, deseed and cut into pieces100g shallots, sliced5g belachan, lightly toast100ml water*1 tsp tamarind paste*¼ cup water > extract juice5 tbsp oil100g onion, sliced Salt and sugar to taste
Method:
Rinse the dried chillies and boil to soften.  Drain.
In a blender, combine chillies, shallots, belachan and water and blitz until fine paste.
Heat oil in wok and add the chilli paste and fry over low heat, stirring constantly until a layer of oil formed and paste turned dark.
Add in the sliced onion and continue to cook until it softens.
Season with salt, sugar and tamarind juice.
Remove from heat and let it cool completely before serving.
Enjoy!


If you have enjoyed this post by Rumbling Tummy, be sure to follow her on Facebook, Instagram, Pinterest, Twitter and Google+ .